Drake and Jennifer Lopez attended a prom together and were dancing REAL close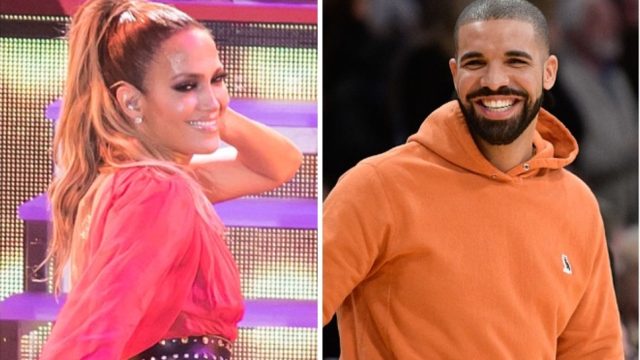 Sometimes, you just want to relive your prom. Well, at least, the getting dressed up and the dancing and the silly theme parts of it.
And it looks like celebrities are into that, too, since Jennifer Lopez and Drake danced in Las Vegas at a Winter Wonderland-themed prom.
And we have to admit, we're certainly intrigued. We were definitely skeptical when news broke that Drake and J.Lo might be dating, but it does seem like they're spending a lot of time together. However, everyone *just* thought Drake and Taylor Swift might be dating, so we think it's best not to speculate too much.
The rumors started after Drake came to Lopez's Las Vegas show, All I Have. Drake took a picture holding Lopez's blinged-out baseball cap.
Then two took (and both posted) a cute selfie after her show, and the rumors have been swirling ever since.
The pair have been spending a lot of time together. For one, they both posted this photo of them cuddling on a couch.
And most recently, they were king and queen of the prom because of course they were.
https://www.instagram.com/p/BOo_u4jjXLX
The pair also danced, and, it seems, briefly kissed.
While we'd love for this to be solid evidence of a DraLo romance, neither artist has confirmed they're an item.
As with Drake and TSwift, it seems like a lot of the excitement is fan speculation at this point. Also, rumors of a collaboration between the two have surfaced, meaning their recent closeness could be a by-product of working together. The prom could be part of a video shoot, or simply a way to drum up anticipation for the single. Either way, the two take a super cute prom picture.
Lopez's corsage and the "polar bear" in the background complete the photo. It's basically every high school midwinter-dance come to life.
Whether or not Drake and Jennifer Lopez are actually dating, the two seem to make a really fun pair. We're glad they're enjoying one another's company, whatever it may mean.