Just so you know, Drake is still rolling in fat "Degrassi" money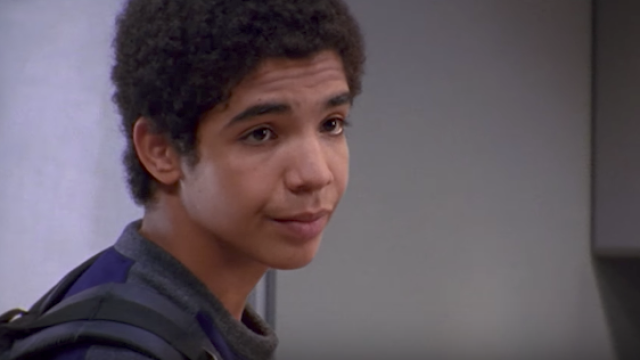 It's hard to believe there was a time when Drake wasn't our favorite rapper with a soft side, a rapper who just wanted to wear turtlenecks and be loved. But before "Hotline Bling" gave us one of the most defining mottos of a generation, he starred on one of the most iconic Canadian teen dramas. From 2001-2007, a young Drake (then Aubrey Graham) starred as Jimmy Brooks on Degrassi: The Next Generation. (That's right, it's been TEN years since Drake left Degrassi.)
While Drake may have graduated from Degrassi, it's clear that he hasn't totally left his Degrassi days behind him — thanks to the BIG bucks he's making in syndication.
The actor-turned-rapper made a mere $8.25 (in what we're assuming is the Canadian Dollar) in a recent Degrassi check, but he seems to be taking it in stride. He hilariously captioned the photo, "Degrassi money still coming in don't sleeeeeeeep…"
Drake may have moved on from his Degrassi days — he missed the big reunion episode on Degrassi: Next Class last year — but he still keeps in touch with his former costars.
In 2015, he reunited with Lauren Collins (Paige), Adamo Ruggiero (Marco), and Daniel Clark (Sean) aka half of the Degrassi crew many of us grew up on.
The four reunited at the premiere of We Are Disorderly, a web series started by a few Degrassi alums.
And in case you were worried Jimmy and Spinner were no longer BFFs, the two got together just a few years earlier.
#TOGETHER4EVA
Just last year, Nina Dobrev presented the rapper with the Favorite Album – Rap/Hip-Hop Award at the AMAs:
https://twitter.com/udfredirect/status/800795257570873344
"Me and Nina were on Degrassi together by the way. We've come a long way, you know? Congratulations on all your success, he told the crowd at the show.
We love that the group still makes an effort to see each other every so often — especially considering how much *drama* they all went through on the show.
Now Drake, don't spend your $$$ all at once — or do, because you could probably only get a sandwich with that stack of cash.