Drake and his dad are co-starring in two hilariously absurd new ads for Virginia Black whiskey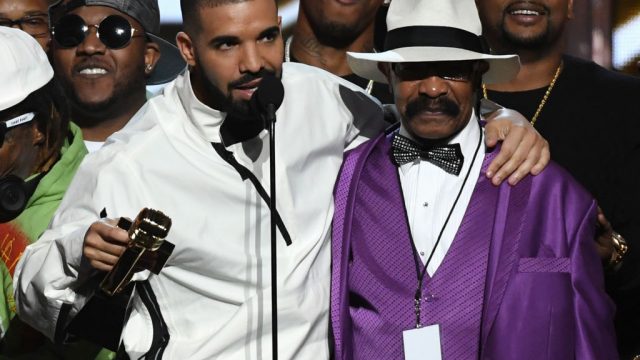 Move over, Most Interesting Man in the World, there's a new dude vying for the world's affection (and disposable income). Who is this fella, you ask? None other than Drake's dad, Dennis Graham. In a pair of new ads for Drake's whiskey label, Virginia Black, our favorite Canadian rapper and his papi (sorry, had to) riff on the Most Interesting Man ads by Dos Equis, the beer company, and frankly — they are totally ridiculous.
The ads are voiced by Drake, in a signature black turtleneck, who introduces his father as the "realest dude ever." Graham then offers absurd one-liners like, "What's under my do-rag? Another do-rag" or "First date? You know we're going dutch." To be honest, we'd pay the whole check if it meant we could have dinner and a drink with Drake's dad, because who knows what kind of secrets that man would reveal.
Honestly, you just have to watch Drake and his dad at work to get it. Check out one of the ads below.
Drake's whiskey label launched last year, and it's so far been a hit. It has a lower alcohol content, just 80 proof as opposed to the standard 95 or 100, so it's super smooth, which was the intended goal of the beverage. Drake launched the brand with his drinking buddy, Brent Hocking, who explained in an interview that making it easy to drink was the whole point.
"Over the past five years we've been drinking together and hanging out, just kind of deciding what we wanted to do. I looked for holes in the market. And I saw that of all the spirits out there, bourbon is probably the most clique-y. There's not an easy drinking one — everyone is thinking there's one way to do it, which is to make it harder and harder to drink. Proofs get higher and higher every year," he told XXL.
Virginia Black, though, is easy to sip all night.
BTW, Drake's dad is definitely the realest. After releasing a single last year, he was pretty mad that people weren't buying it as quickly as they would his son's tunes. In a since-deleted Instagram post he wrote, "I will be deleting all my so called friends on Instagram who hasn't purchased my 1.29 Kinda Crazy single how cheap can friends be have a nice life!!!!!!!"
He added, "As of midnight tonight you will be a faded memory, you know who you are, and you can also see that all you a**holes that are making what you think are funny comments has been blocked." So if you want to be besties with the original Champagne Papi, you better show some love.
Until then, we'll be trying to hunt down some Virginia Black at the local bar and pretending we're sipping it with Drizzy.