We tested Dr. Pimple Popper's body acne line before anyone else, and here's how it treated my bacne
I've been plagued recently by a bout of bacne. It snuck up on me; one day my back was smooth and clear, the next I noticed a smattering of blackheads covering my back like some sort of clogged pore Monet painting. This, not surprisingly, made me self-conscious — especially heading into spring and summer, where tanks, backless dresses, and swimsuits are the norm. So, naturally, I jumped at the chance to be one of the first people to try Dr. Pimple Popper's (aka Sandra Lee, MD) new products specifically targeting body acne. The two products, Acne Body Spray and Acne Body Wash, officially launch today, April 17th, on SLMDskincare.com.
Here is my exclusive first look at the products, and my honest review.
The Dr. Pimple Popper Body Acne Line: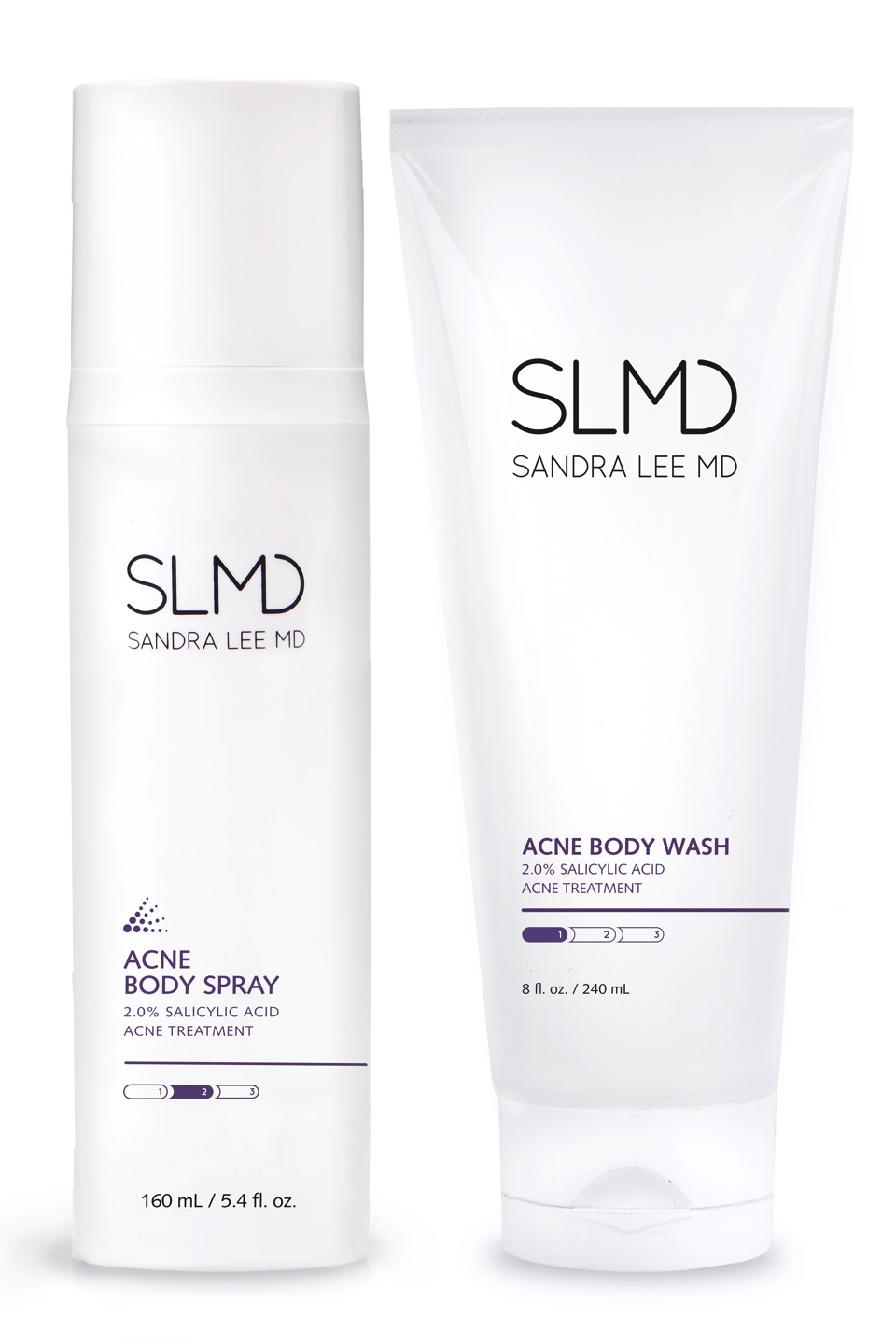 You probably recognize Dr. Lee as her online persona, Dr. Pimple Popper. She records herself popping pimples, cysts, and various other skin ailments in her Upland, California-based dermatology office. (Full disclosure: I have never made it through a pimple popping video. Not for lack of trying, but I always have to stop before things get gory.)
The body products are an extension of her skin care line. Both the spray and the body wash contain 2% salicylic acid (this is both a word I will always fail to spell correctly on the first try).
Why (oh why) does bacne happen?
In a nutshell: The same way the pores on your face get clogged. Acne happens when your pores get clogged with oil and other gunk (like dead skin). Your back has both pores and sebaceous glands; ergo you can get acne on your back. Actually, you can get acne pretty much anywhere on your body. The only places you don't have sebaceous glands are on the palms of your hands and the soles of your feet.
My bacne was likely caused by exercise. When you work out, you sweat. And if you don't change out of your sweaty clothes relatively quickly, you increase your chances of breaking out, because all that sweat and bacteria is pressed up against your skin. I am only slightly ashamed to admit that I never change out of my workout clothes in a timely manner. On the weekends, I often go from CrossFit to coffee with my friends without changing my clothes. During the week, I come back from my early morning workouts and inevitably get distracted by emails and work before I actually hop in the shower. Basically, I did this whole bacne thing to myself. Le sigh. While I get the occasional pimple, my bacne mostly consists of pesky blackheads.
The products: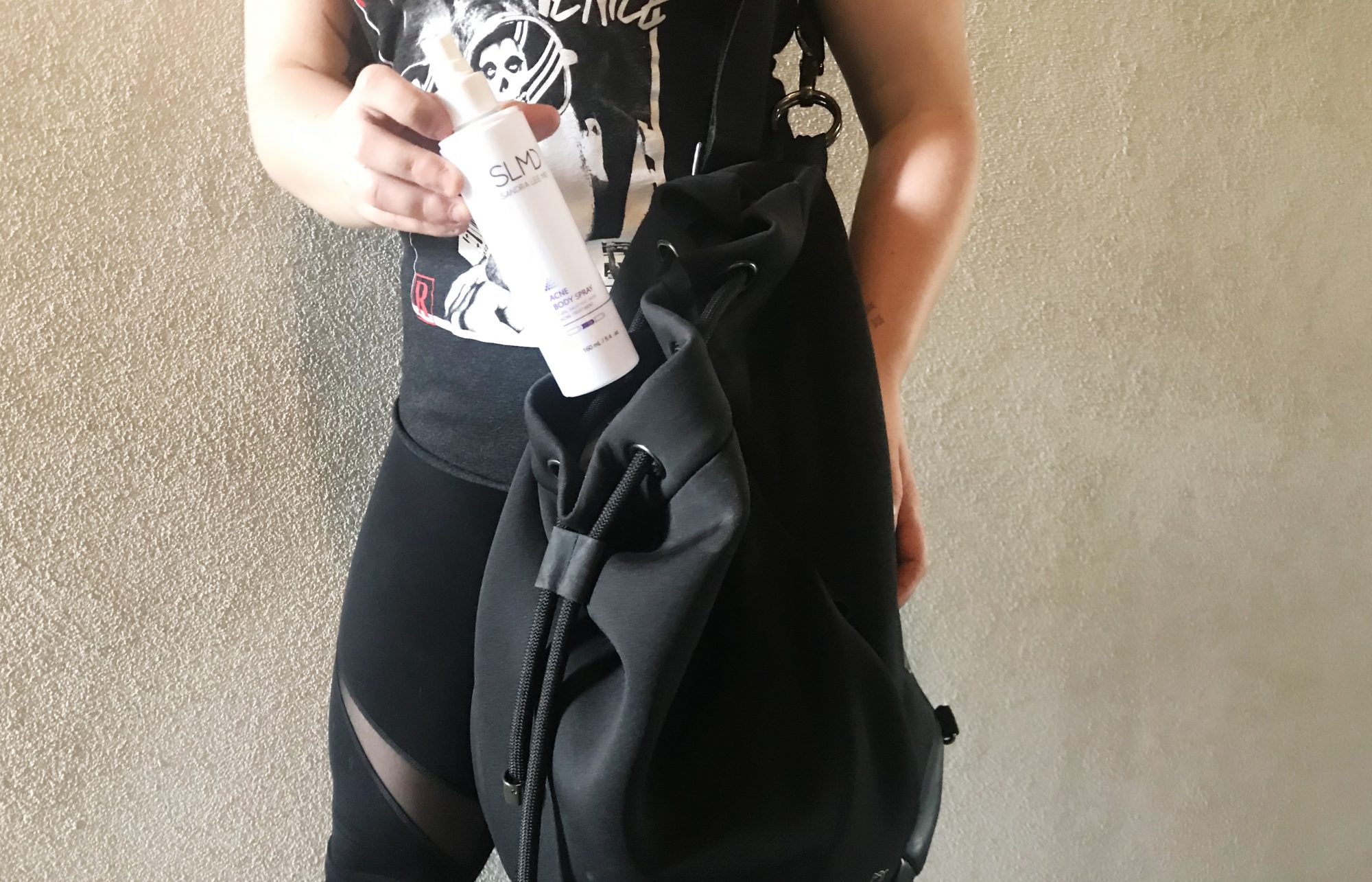 The Acne Body Spray, $38, is 160 milliliters of acne-fighting goodness. It contains 2% salicylic acid, which is great for dissolving the gunk that clogs up pores. It also has rosemary leaf extract and papaya fruit extract; the former is a calming, antioxidant-rich ingredient, the latter is a mild exfoliant that helps get rid of blemishes.
My favorite part was that it was so easy to use, because if you have bacne, you know how difficult it can be to contort yourself into a position to apply a treatment/pop your blemishes. With this, you simply spritz it on. The smell is slightly medicinal, and I'm okay with that. I actually keep the spray in my gym bag, and douse my chest and back with it before heading out to coffee with friends. Pro tip: Make sure to get underneath the straps of your sports bra. This helps prevent and treat any blackheads and pimples that might pop up, thanks to my inability/unwillingness to get to a shower ASAP.
The Acne Body Wash, $35, also contains 2% salicylic acid. Like the spray, it smells slightly medicinal, but I like that because it feels more serious. It's a clear gel that foams lightly and it doesn't tingle or burn when you wash with it. It feels very gentle but packs a powerful punch. It also contains aloe, allantoin (a soothing plant extract), and lactic acid.
As I mentioned, I use the spray post-workout if I know I'm not going to get to a shower immediately. I also mist myself with it post-shower, after cleansing with the body wash. And sometimes I use it again before I go to bed. Essentially, I spray my chest and back with it two to three times a day, and use the body wash once a day. If you buy the system as a whole, it retails for $65.
Final thoughts: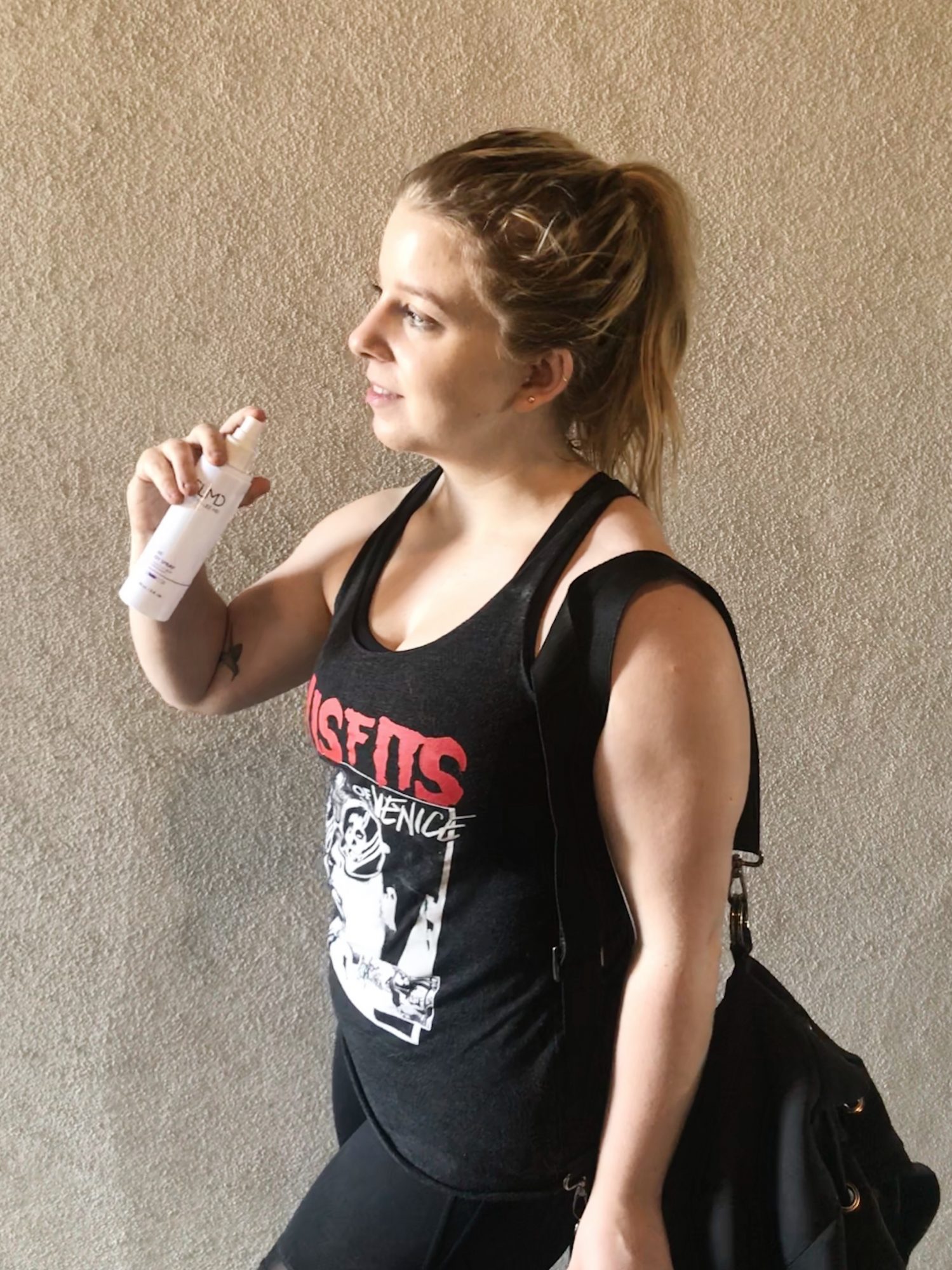 After using the products for about a month, I've noticed a significant decrease in the number of blackheads on my back and chest. Though I did have one big breakout, complete with red, inflamed pimples, but it was around my period so I'm going to blame #hormones. However, even with the breakout, my pimples still went away relatively quickly, thanks to my diligent cleansing and spritzing. If you suffer from bacne, especially blackheads, I recommend checking out this duo.