Are the goth-glam Dr. Martens x Lazy Oaf boots sold out? Here's how to get the heart-adorned shoes
Classic counterculture footwear company Dr. Martens teamed up with Lazy Oaf on a collaboration that's got our goth-glam hearts a-flutter.
Dr. Martens is a reliable source for boots and shoes that are equal parts tough and stylish, while Lazy Oaf is an irreverent streetwear brand that embodies youth and rebellion. The two British brands are a perfect match, and the latest release from Lazy Oaf and Dr. Martens is a feast for our "goth, but make it cute" sensibilities.
The new jungle boots are ankle-height, with a double platform sole (featuring the trademark Docs bounce) for extra height and sass. Three straps are fastened with the cutest heart-shaped buckles. A contrasting heart detail at the heel is an adorable accent. The boots are fashioned from hi-suede leather, guaranteed to last.
The boots are available in black (for the traditional witch) and pink (for the soft goths). They retail for $180 a pair and come in a special heart-adorned box. However, most sizes are already out of stock or running low in stock, so you'll have to jump on these fast. Because goths and punks need love, too.
Toughen up a sweet sundress with a pair of these bad gals, or rock them with your most beat-up jeans, you can never go wrong with a good pair of Docs. Once you've made it through that breaking-in period, you'll be reaching for these every day.
Take a look:
Walk away with love.
https://www.instagram.com/p/BgynuPlBEeS
Wear your heart on your…heels?
Buckle up!
https://www.instagram.com/p/Bg5sFBvhZoE
Buckles for days.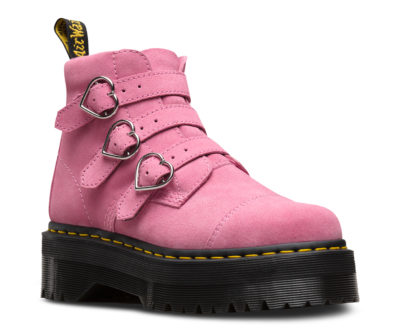 Valentine's Day can be all year round.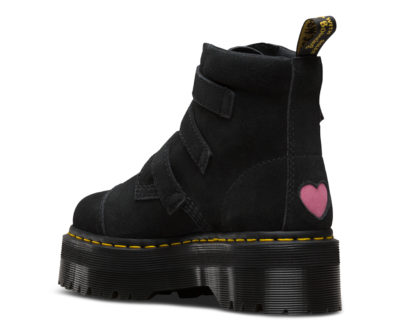 Punk, but make it cute.
Pastel goth dreams.
https://www.instagram.com/p/Bg6HzK4DUVJ
Shop the Dr. Martens x Lazy Oaf collab ($180) on DrMartens.com and Lazy Oaf.com.