This TikTok Famous Color-Correcting Cream Instantly Fixes My Redness
It has long-term benefits, too.
Welcome to Game Changers, a weekly series in which we reveal the holy- grail beauty products we're loving now—the ones that saved our hair, cleared our skin, and, in some way, changed our lives.
Like many millennials out there "Skin-Tok,"aka the skincare-focused side of TikTok, has become my latest obsession. First came The Ordinary's AHA + BHA Mask, and now, the Dr. Jart+ Cicapair Color Correcting Treatment is taking over the social media platform. It's become so popular that the brand confirmed that sales of it increased 397% YOY, and I'm pretty sure it has something to do with their 38.4 million views on TikTok raving about this cream. Not to brag, but I became a loyalist to this TikTok famous product over a year ago before it was mainstream cool, and after a year of using it I can confirm that it lives up to the hype.
The emollient cream initially looks green on the skin, but after a little rubbing in it turns into a beige that works on all light to medium skin tones, covering any redness and masking dark spots. For someone who gets very red in winter, this color correcting cream is a huge game-changer for me. I have sensitive skin, and while foundations covered my redness and spots, they make me break out and cause further sensitization, however, BB and CC creams don't provide enough coverage for me. I had all but given up hope on finding a good base product for my face until I tried the Dr. Jart+ Tiger Grass Color Correcting Treatment. Long gone are the days of red splotchy skin, hard-to-hide breakouts, and trying to conceal dark spots thanks to this cream and its star ingredient: "tiger grass."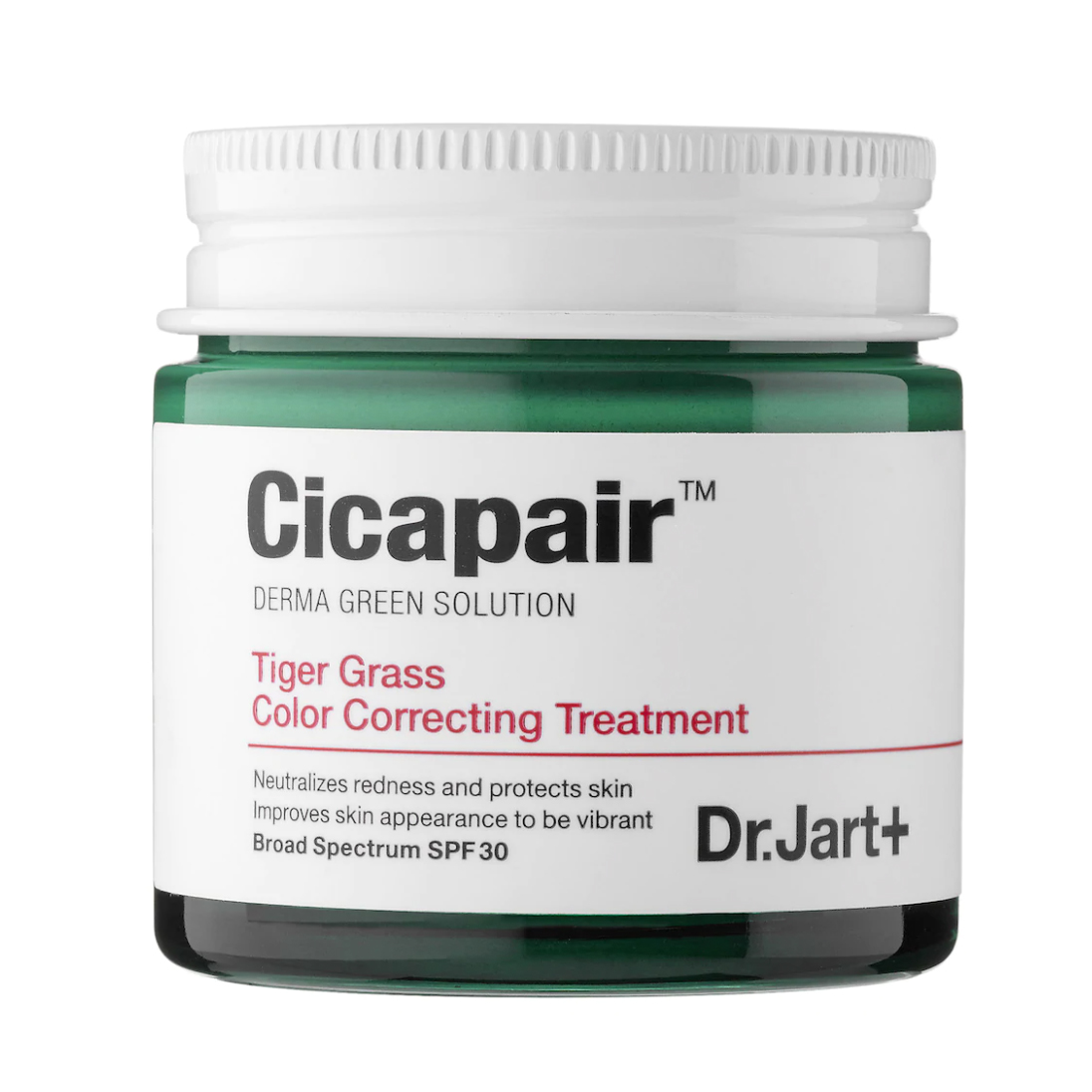 Dr. Jart+ Cicapair Color Correcting Cream
$$52
Shop it
Sephora
"[Centenella Asiatica] is commonly referred to as "tiger grass" as tigers in India have been known to roll around in this native plant, found in the wetlands of Asia, to heal their wounds and infections," explains Michele Green, M.D., a board-certified dermatologist in New York City. "There's evidence that products with Centella Asiatica can help revitalize our skin's protective barrier and reduce some of the visible effects of sun damage." So, not only does my skin instantly look brighter and more radiant, but after a few weeks, I also noticed that I had less blemishes, less redness, and better texture.
I have fair skin, freckles, and a combination of oily and dry skin that come winter, resembles the color of Dorothy's ruby red slippers. Before applying, I put on my vitamin C serum and sunscreen. I've found that applying the Dr. Jart+ Cicapair Color Correcting Treatment before my makeup helps reduce redness and creates such a smooth base that I often forgo using a primer and have even recently started wearing less foundation.
Instead of spending an hour in the morning covering my face in concealer and foundation, this color correcting cream has given me the confidence to rock the "less is more" all-natural look. After applying a few dots on my face, I blend the product using a Beautyblender for an even and streak-free application. Initially it always looks like you've applied too much, however, after two to three minutes, (like magic) this cream will neutralize any discoloration leaving you with semi-full coverage. Plus, it's packed with SPF 30 too. After using this color-correcting cream, my skin looks and feels better in every way. Now, when I wear foundation it's because I want to, not because I feel I have to constantly cover up imperfections—thanks Skin-Tok!