What has Doug Jones done to help minorities?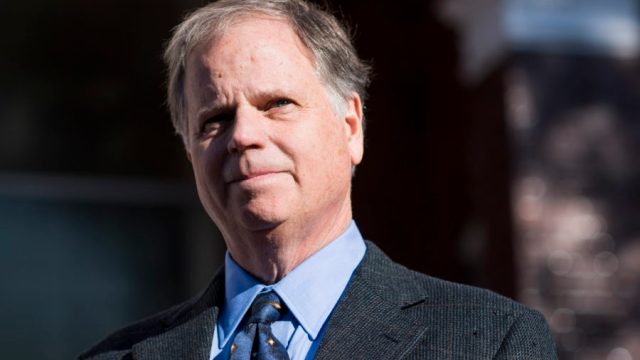 The race for the Alabama Senate seat has been a tumultuous one. Multiple allegations of sexual misconduct have been leveled against Republican nominee Roy Moore, bringing the race into the national spotlight. And because Moore has captured so much media attention, relatively little is known about his opponent, Democratic contender Doug Jones.
Jones, a former prosecutor and civil rights advocate, has built a career working with and for minority communities. But what exactly has Jones done for minority groups in the past? Read on to find out.
He prosecuted members of the KKK.
In 2001-2002, while Jones was a federal prosecutor, he worked to convict two Klansmen who bombed a church in Birmingham that left four young African-American women dead in 1963. New Jersey Senator Cory Booker, who has been aggressively campaigning for Jones, praised his work on the case.
"When he went back and prosecuted the case of the girls who died in the 16th Street Baptist Church, he did not just honor our ancestors, he told the world who Alabama is.
https://www.instagram.com/p/Bcl3vkGDUZ6
He's a strong advocate for civil rights.
Doug Jones has repeatedly demonstrated his passion for and devotion to the Civil Rights Movement. In 2007, Jones went before the United States House Committee on the Judiciary to testify in favor of re-examining crimes that took place during the Civil Rights Era. Jones believes that civil rights activists could have been wrongly prosecuted, while hate crimes went unpunished.
He's against the infamous "three strikes" law.
Among his numerous platforms, Doug Jones has been vocal about modifying the three-strikes law. This law, which gives a massive increase in prison sentences for repeat offenders, has no distinction between violent and non-violent crimes. Critics of the law insist it unfairly targets minority groups, who end up serving life sentences for non-violent crimes.
He speaks out against racism.
In an article written for The Huffington Post, Doug Jones pulled no punches regarding racism. He has repeatedly condemned racially-motivated violence, and called for the prosecution of the perpetrators — particularly those involved in white power rallies across the country.
"Sadly, the pattern of violence as a response to hope has reasserted itself. We saw it in the Charleston church massacre in 2015. We saw it on display in Charlottesville this past August. We've seen it in the attacks on mosques and synagogues, and against the LGBT community. We see it in the hostility toward the Latino community. We cannot sweep this violence under the rug. We must address the forces that lead to it and prosecute those who perpetrate such acts.
The Alabama Senate race is happening today, December 12th, and if you're a registered Alabama voter who feels strongly about the above issues, we encourage you to vote!