I converted from using harsh scrubs to double cleansing—here's how to know if it's right for you too
Finding out that one of your go-to beauty products can be harmful to your skin is like the adult version of finding out Santa Claus isn't real all over again. You think, "What other skin care folktales have I been believing this whole time?" For me, that foundation-shaking product revelation was over the very controversial St. Ives Apricot Scrub. I had been using the product since middle school and thought it was the product for my skin. As I scrubbed, I used to envision all the dirt being scooped right out of my pores, and would be satisfied believing my face was getting a deep clean.
Because I don't have particularly sensitive skin, I didn't experience visible side effects from the scrub. However, after learning that harsh face scrubs could cause micro-tearing and stand in the way of healthier skin, I decided to search for more gentle means of getting my skin clean.
That's where the double cleansing method comes in.
Double cleansing is pretty much exactly what it sounds like: a two-step process for cleansing your face. The method typically involves an oil-based cleanser to start and a gel- or water-based cleanser to follow.
"The oil is going to help to remove other oil-based or cream-based topicals that are on your skin. So it's helping to remove the makeup, the lotion, the sunscreen, and then the gel is going to help to cleanse the skin once that oily layer is off," board-certified dermatologist Tracy Evans, M.D. tells HelloGiggles.
Dr. Evans is a strong advocate for the double cleansing method and she explains that it can be an especially good option for people who wear makeup everyday and those with more oily skin types. And that makes me, essentially, the perfect candidate. Since I've started double cleansing, I've been able to see that my face is getting a thorough cleanse without having to worry about damaging the surface of my skin.
To be clear, double cleansing isn't a replacement for exfoliating. Dr. Evans still suggests exfoliating once a week (or two to three times a week for those with extra oily skin) in order to remove dead skin cells. But instead of the harsh face scrubs, she recommends choosing products containing gentle exfoliants, like alpha hydroxy acids, beta hydoxy acids, or glycolic acid, depending on your skin type. Her favorite products for exfoliating are the NEOCUTIS Exfoliating Skin Cleanser and the SkinMedica AHA/BHA Exfoliating Cleanser.
Overall, when determining whether or not you should double cleanse and the best cleansing method for you, the most important thing to consider is your skin type.
So, should you double cleanse?
As with every skin care question, there's no one answer, because everyone's skin is different. But here's the short answer: Yes, you should probably be double cleansing in one way or another. Whether you wear a lot of makeup or none at all, your skin also accumulates dirt and pollution particles throughout the day—especially if you live in an urban environment. Dr. Evans strongly recommends an initial cleansing step to remove that loaded layer that's sitting on top of your skin, so that you can better reach what's hiding underneath during your second cleanse.
Whether you're a makeup-wearer or not, there's something else that makes that first cleansing step universally important in Dr. Evans' eyes: sunscreen.
"[Sunscreen] should be the at the heart of anybody's beauty routine, because it is the number one thing you can do for anti-aging," Dr. Evans says. "It's protecting your skin, not just against skin cancer, but really for fine lines, wrinkles, photo damage, broken blood vessels."
Since everyone should be wearing sunscreen everyday, Dr. Evans believes everyone should also be making sure to remove it at the end of the night. However, that doesn't necessarily mean the double cleansing method is recommended for everyone, at least not in exactly the same way.
How to double cleanse for your skin type:
Dr. Evans likes to tell her patients that everyone's skin is as unique as a snowflake, explaining that just because somebody uses something in their skincare routine, doesn't necessarily mean it'll work for them. "You really have to customize your [own] skin routine," she urges.
As previously mentioned, the standard double cleansing method can work great for those with oily skin types, but people with skin that's more dry or sensitive may need to make some alterations, like swapping the oil-based cleanser with gentle makeup wipes. Dr. Evans provided her skin-type-specific suggestions below, but she also suggests testing out products (on your arm or somewhere other than your face) for a few weeks before fully incorporating them into your routine.
How to double cleanse if you have oily skin:
If you have oily skin, the thought of intentionally putting more oil on your face can be a bit intimidating, but because oil-based cleansers attract and draw out other oils, they can actually help keep excess sebum production under control. For step one, the oil-based cleanser, Dr. Evans recommends the Emma Hardie Moringa Cleansing Balm, which contains marula oil. For step two, the gel-based cleanser, she suggests the NEOCUTIS Exfoliating Skin Cleanser, which contains glycolic acid.
Shop it! NEOCUTIS Exfoliating Skin Cleanser, $38, amazon.com
How to double cleanse if you have sensitive or acne-prone skin:
In order to avoid irritation or over-drying, sensitive and acne-prone skin can also benefit from swapping the oil-based cleanser with a makeup wipe, or reusable makeup removing pads, like the Face Halo Makeup Remover Pads, for a more sustainable option. Dr. Evans suggests the La Roche-Posay Toleriane Hydrating Gentle Cleanser here as well, since it has a gentle exfoliating element that can help keep acne at bay.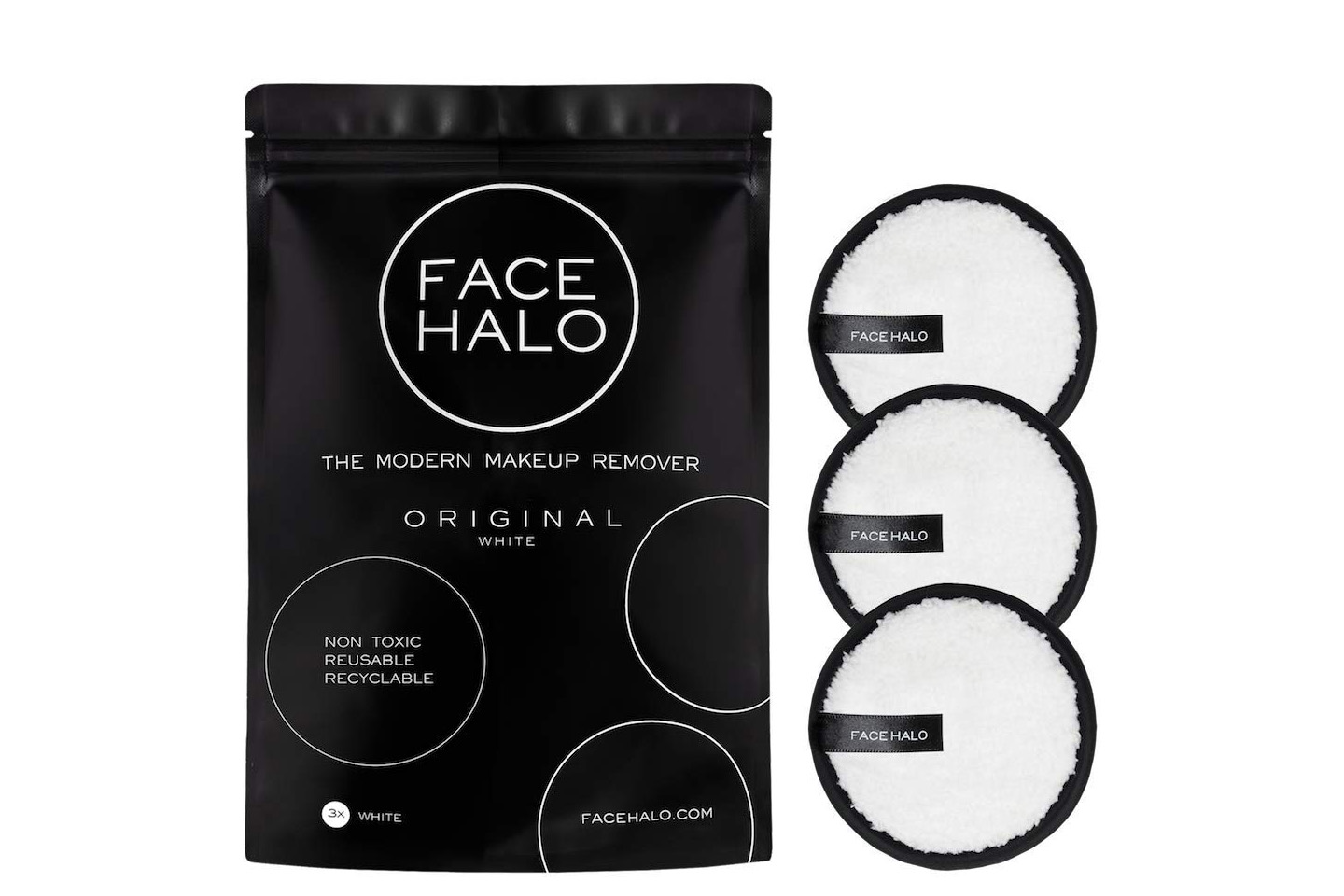 Shop it! Face Halo, $22, amazon.com 
How to double cleanse if you have dry skin:
For those with dry skin, the products used for double cleansing should be gentle and designed with hydration in mind. The same oil-based cleansers are typically fine to use on dry skin as well as oily, but there's more cause for concern with the water-based cleansers since they can lead to over-drying the skin. For the second-step, Dr. Evans suggests the La Roche-Posay Toleriane Hydrating Gentle Cleanser for a cheaper alternative.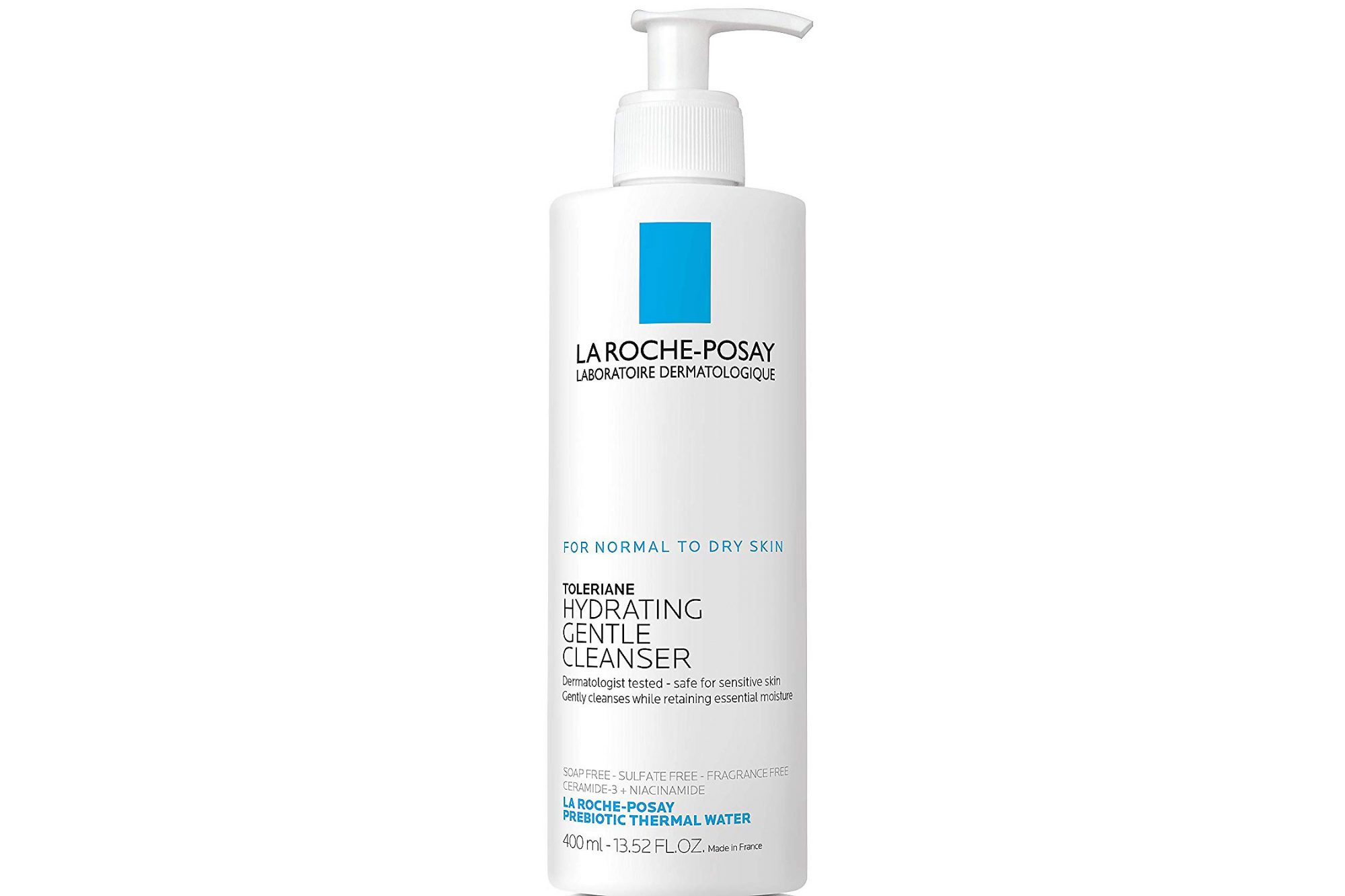 Shop it! La Roche-Posay Toleraine Hydrating Gentle Cleanser, $14.99, amazon.com
And for patients with extra-dry skin, Dr. Evans recommends replacing the oil-based cleanser with a makeup wipe, like the Neutrogena Fragrance Free Makeup Remover Wipes, then following with a cream-based cleanser.