Dose of Colors is launching new lipsticks and we're curious about the unique lip applicator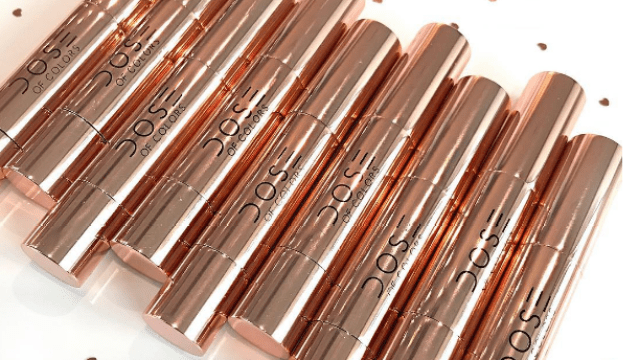 There are new developments on the horizon for women looking to transform their lips into a rosy satin cloud, and our curiosity is piqued. According to a handful of recent Instagram posts, Dose of Colors is launching new lipsticks later this week, and they look heavenly.
The up-and-coming Lip It Up Satin Lipstick line from Dose of Colors will include 10 new shades of lip color, and we're already feeling eager to try them out. As with all Dose of Colors lipsticks, the new shades will be completely vegan, paraben-free, talc free, and cruelty free. So, we can wear them with a peace of mind.
We're feeling impatient to see the colors up close to get a better feel for the coming color wheel.
Luckily for us, the 10 shades of Satin Lipstick will launch on June 23rd, at 10 a.m. PST on the Dose of Colors website. Thankfully we don't have to wait long to shop all the shades!
While we're eager to try out the passionate colors in the Satin Lipstick line, we're even more curious to try out the new applicator.
The flat tip should create an easier application process, and allow us to create a bold lip without bleeding or popsicle-mouth.
https://www.instagram.com/p/BVa3KXag21V
Be sure to mark your calendars for Friday, June 23rd for the launch of the Lip It Up Satin Lipstick line!
We'll be keeping our eyes peeled for more updates in the meantime!