People are bidding tens of thousands of dollars for this single Dorito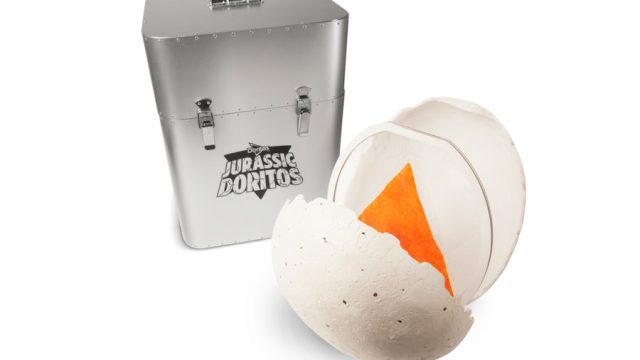 It's an experiment gone oh-so-right and delicious. Late last week, Doritos unveiled a dinosaur-sized nacho cheese-flavored chip in partnership with  Jurassic World: Fallen Kingdom (in the collaboration of our Jeff Goldblum dreams). And now, for a limited-time, you can actually buy the one-foot Jurassic Dorito ahead of the film's June 22nd premiere — if you have a boatload of money lying around.
Doritos' Jurassic World collaboration is for a good cause: Doritos is auctioning off the limited-edition chip to the highest bidder on eBay, with all proceeds going to benefit disaster relief efforts for the American Red Cross of Hawaii, where many scenes of the Jurassic franchises were filmed.
In turn, people are bidding tens of thousands of dollars for the one-foot Jurassic Dorito. As of today, the highest bid is over $12,000.
According to a representative from Frito-Lay, there have so far been 75 bids for the giant chip — with more than 10 bids over $10,000 each. If you're keen on getting your hands on the dinosauric chip before it goes extinct, we've got great news.
Fans have until Wednesday, June 20th at 6:15 p.m. EST to bid on the limited-edition Dorito chip.
The one-foot Dorito chip comes encased in a giant dinosaur egg (which will need to be hatched), and will be shipped in a Jurassic World prop-replica metallic crate. In a hilarious Doritos-produced trailer, B.D. Wong channels his Jurassic World character, Dr. Henry Wu. Pensively in the lab, he says:
"I was right. The Doritos and dinosaur DNA are completely integrated.
https://www.instagram.com/p/BkBJgann34I
It was Goldblum's Dr. Ian Malcolm who lamented to Richard Attenborough's John Hammond in the original Jurassic Park film the following words: "Your scientists were so
preoccupied with whether or not they could, they didn't stop to think if they should."
In the case of Doritos' latest collaboration, they clearly should have.