These Doritos cheese sticks will make regular mozzarella sticks seem like a bad ex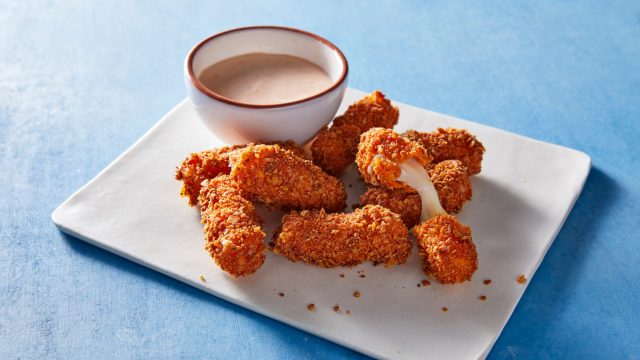 Melty, gooey, delicious cheese. Is there really anything better in the entire world? Every restaurant that has cheese sticks on their menu is an automatic "yes" for me. To quote my hero, Liz Lemon, in response to a guy wanting to buy her a drink: "But I already have a drink. Do you think he'd buy me mozzarella sticks?"
Making them at home just got even easier with this incredible recipe. You can remix them up and use your favorite Doritos chip to add even more cheesy, savory goodness. Go out and have cheese sticks or stay home and have cheese sticks, but whatever you do, do it with cheese sticks. (Also the perfect Valentine's dinner app, btw.) Watch the video and follow the recipe below.
[tempo-video id="5729263057001″ account="4607804089001″]
Dorito Cheese Sticks
Serves: 2 (serving size: 4 cheese sticks)
Active 20 mins. Total 50 mins..
Ingredients:
1/3 cup ranch dressing
1 tsp. hot sauce (such as Cholula)
1 bag Nacho Cheese Doritos
2 large eggs, beaten
1/4 tsp. kosher salt
4 mozzarella string cheese sticks, cut in half
1/4 cup all-purpose flour
Canola oil, for frying
Recipe:
1. Whisk together ranch and hot sauce in a small bowl. Set aside.
2. Place Doritos, in batches, in a food processor. Pulse until finely crumbled, about 15 times. Place crumbs in a medium bowl.
3. Whisk together eggs and salt in a small bowl. Place flour in a shallow dish.
4. Working in batches, dredge cheese sticks in flour, then egg mixture, then Doritos crumbs. Dredge again in flour, then egg mixture, and finally Doritos crumbs, so that each cheese stick is double-coated. Place on a baking sheet lined with parchment paper, and freeze until coating is set, about 30 minutes.
5. Pour oil to a depth of 2 inches in a large Dutch oven over medium, and heat to 350°F. Carefully place frozen cheese sticks in hot oil, and fry until golden brown, about 2 minutes. Transfer to a plate lined with paper towels to drain. Serve warm with ranch dipping sauce.