Don't worry — Ryan Gosling is "working on" getting a role in the new "Indiana Jones"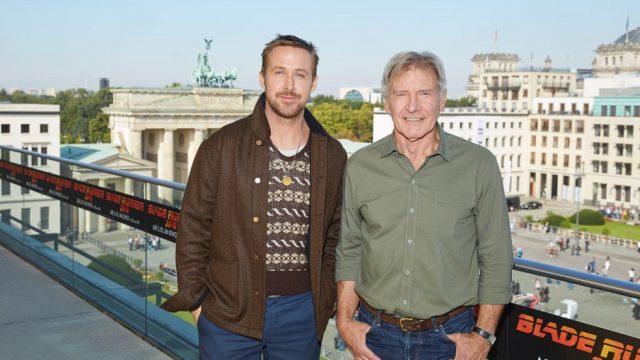 When it was revealed that Harrison Ford would be reprising his iconic role in the new movie, we lost it. So can you imagine our reaction if Ryan Gosling was cast in the new Indiana Jones? This might very well be the perfect movie.
Gosling and Ford are currently promoting Blade Runner 2049, and from the looks of it, they have such mutual love and respect for each other. However, as Gosling joked, that might just be because he's trying to butter up Ford to ask him about Indiana Jones.
"I'm working on it man...easy," Gosling said to E! News when they asked if he'd make an appearance in the film series. The actor jokingly added, "You just blew it for me. Too soon."
So nothing is certain. But at least it's good to know that the actor would entertain the idea — especially since he's admitted that he's quite a fan.
Plus, the two have proven they can work together in a variety of different situations. Don't forget that last year, Gosling noted that Ford accidentally punched him in the face while filming Blade Runner 2049 — and they're still friends!
"It was kind of, you know, a rite of passage," he said to GQ. "But what was funny was, when it was over, they brought ice for my face, and Harrison pushed me out of the way and stuck his fist in the ice."
He also admitted that Ford was a "hero" of his.
"You know, they say don't meet your heroes, but I would say the addendum to that is '...unless they're Harrison Ford.' 'Cause he's a cool motherf--ker," he noted.
Ford's next heroic mission? Getting Gosling a part in the movie.