Grab the Popcorn! 'Don't Worry Darling' is Officially Here
To the movie theater we go!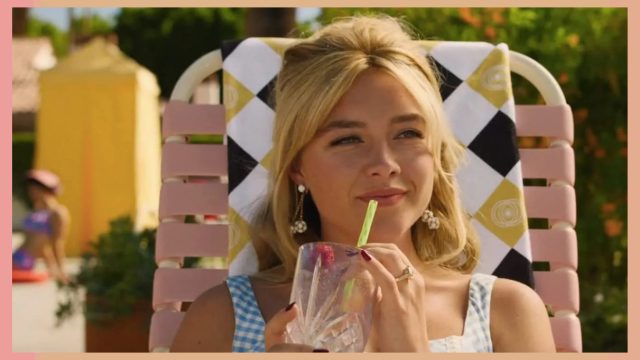 Two red carpet premiere no-shows and one spit accusation later, it's finally the day we've all been waiting for. It's Don't Worry Darling premiere day.
Directed by Olivia Wilde, the sexy thriller follows lovebirds Alice (Florence Pugh) and Jack Chambers (Harry Styles) as they settle into newlywed life in an experimental utopia called Victory. While modernly exquisite, Victory is also a place where nothing is what it seems. As disturbia creeps in, Alice grows more and more curious about the inner workings of her husband's company, which will stop at no cost to keep what they do deeply hidden. Gemma Chan, Chris Pine, Nick Kroll and KiKi Layne are also featured in the film.
RELATED: 20 Best Date Night Movies to Watch With Your Partner
Don't Worry Darling's premiere weekend isn't like any other normal movie premiere weekend. There's a heck of a lot at stake.
According to Variety, Don't Worry Darling "is expected to generate $17 million to $20 million in its opening weekend." Some are even throwing out the number $25 million, which would put the film in a sweet spot with its $35 million production bill.
Per the rumor mill, Don't Worry Darling is some of Pugh's finest work and the same goes for Wilde. They both could be looking at a very exciting upcoming award season. Meanwhile, Don't Worry Darling is Styles' first major movie role — and he even got himself wrapped up in an on-set romance. Nicely done, Harry.
Don't Worry Darling is saturated with talent. Albeit, some would argue it's the offscreen drama among the cast that's fueling the buzz and fanfare.
First, Wilde was publicly served divorce papers while promoting her film at CinemaCon, which is just…wow. Then, come to find out, "Miss Pugh" may have actually hated her time working on the film? She's been noticeably absent from the press tour. Speaking of which, trouble may be brewing in paradise based on Wilde's and Styles' body language on tour.
Then there's the video that shook the internet in which Styles allegedly spits on Pine while taking his seat. And that doesn't even touch on the Shia LaBeouf of it all.
Don't Worry Darling is officially out for the world to see, so hit up the theater and form an opinion about the film for yourself. Hopefully it's worth all the energy and time we spent overanalyzing a video of (alleged) flying saliva.
Emily is a NYC-based freelance entertainment and lifestyle writer — though, she'll never pass up the opportunity to talk about women's health and sports (she thrives during the Olympics).
Read more