One of Donald Trump's judicial nominees just withdrew after a viral video revealed he's never tried a case in court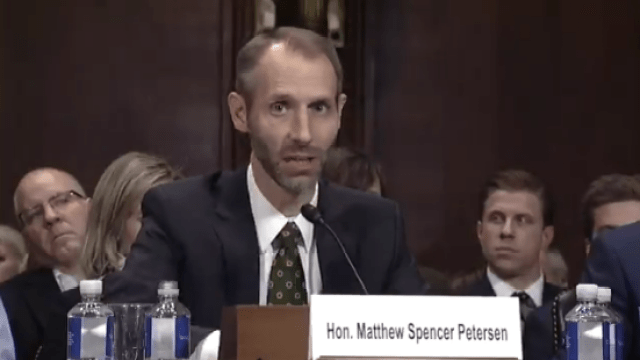 President Donald Trump's appointments have always drawn scrutiny. And on December 18th, one of Trump's judicial nominees, Matthew Peterson, withdrew after a video of him struggling to answer questions at his confirmation hearing went viral.
Peterson had been nominated to serve as a judge in the U.S. District Court for the District of Columbia. He penned a resignation letter to Trump in which he said that he didn't want to be "a continued distraction" to the president.
In a five-minute clip of the confirmation hearing, Peterson told Senator John Kennedy that he has never tried a case in court and has taken fewer than five depositions. He later said that his "background is not in litigation." Throughout the questioning, Peterson was unable to answer a single one of Kennedy's questions.
"I understand that the path that many successful district court judges have taken has been a different one than I have taken," Peterson said.
The video was shared by Democratic Senator Sheldon Whitehouse and has been viewed more than eight million times.
Peterson currently serves as the commissioner for the Federal Election Commission, and most of his experience is in campaign finance law. He graduated with a law degree from the University of Virginia.
Two of Trump's other judicial nominees have also withdrawn this month. Brett Talley removed his name from consideration after it was discovered that the American Bar Association rated him as "not qualified" due to his lack of courtroom experience. Nominee Jeff Mateer withdrew after speeches surfaced in which he described transgender children as part of "Satan's plan" and called the legalization of same-sex marriage "disgusting."
It's unnerving that Trump's judicial nominees have been so unfit for the role. Judges have the potential to impact the law in major ways — like the court ruling that LGBTQ people can't be fired for their sexual orientation. If the people who serve on these courts aren't qualified, it could negatively affect us all for decades. Judges are important, and we need our president to realize this when he makes his nominations.