Trump just claimed that Democrats made up the 3,000 hurricane deaths in Puerto Rico to make him look bad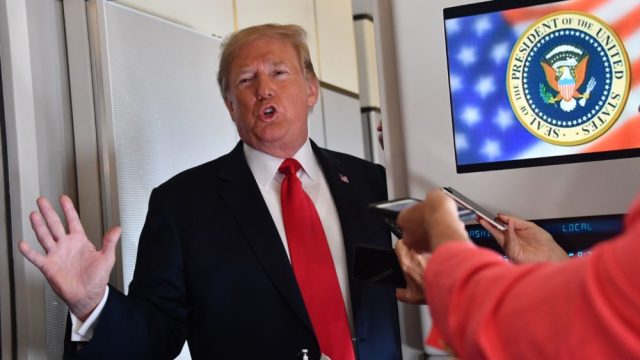 In September 2017, Hurricane Maria hit Puerto Rico, leaving thousands of people without power or clean water for months. Despite the abundant evidence of the hurricane's immense destruction, President Donald Trump has repeatedly dismissed the crisis. And in a recent series of tweets, he falsely claimed that the high death toll in the wake of the hurricane was all part of a liberal political stunt.
As BBC News reported, in late August, Puerto Rico Governor Ricardo Rossello updated the storm's official death toll to 2,975 people—a huge increase from previous figures, and one that includes those who died of hurricane-related infrastructure problems after the actual storm had passed. But today, September 12th, Trump cast doubt on the number, tweeting that Democrats had fabricated the information.
"3,000 people did not die in the two hurricanes that hit Puerto Rico," he wrote. "When I left the Island, AFTER the storm had hit, they had anywhere from 6 to 18 deaths. As time went by it did not go up by much. Then, a long time later, they started to report really large numbers, like 3,000."
"This was done by the Democrats in order to make me look as bad as possible when I was successfully raising Billions of Dollars to help rebuild Puerto Rico, he continued. "If a person died for any reason, like old age, just add them onto the list. Bad politics. I love Puerto Rico!"
https://twitter.com/udfredirect/status/1040217897703026689
https://twitter.com/udfredirect/status/1040220855400386560
Trump is correct that the Puerto Rican government initially reported a much lower death count—in fact, the lower number was widely criticized as deceptive. CNN notes that in December 2017, the official government count reported 64 deaths, but around the same time, The New York Times estimated that more than 1,000 people had died, based on data from Puerto Rico's vital statistics bureau. The official death toll was revised after the February publication of a study from George Washington University that estimated about 3,000 people had perished as a result of the storm.
But despite all of the evidence to the contrary, Trump has continually claimed that relief efforts post-Hurricane Maria were successful. In a September 11th briefing, NPR reported that the president called the efforts "an incredible unsung success," and the next day, he tweeted that the administration did "an unappreciated great job" with relief efforts, condemning the mayor of San Juan as "totally incompetent."
https://twitter.com/udfredirect/status/1039828966595616768
The deaths caused by Hurricane Maria are very real, and the president's inability to accept basic facts is, while terrifying, sadly unsurprising (not to mention unimaginably callous to those who lost loved ones). Now's the time to try our best to stay informed—and bring that knowledge to the voting booths in the upcoming midterm elections.