Donald Trump claims he turned down Time magazine's 2017 Person of the Year honor — but they say that's fake news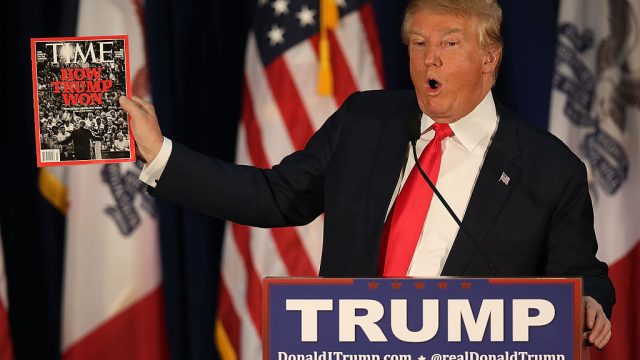 Another day, another incidence of Donald Trump playing the role of a man scorned. This time, he's in a battle with Time magazine over their annual Person of the Year honor. Last year, the honor went to Trump. In 2015, it went to German Chancellor Angela Merkel. And this year, Trump has some opinions on who he thinks they're going to pick: him, again. But Time magazine is disputing his claim.
On Friday, November 24th, the president tweeted that he was "probably" going to be the magazine's pick for 2017 Person of the Year. But "probably" wasn't good enough, so he declined altogether, also via Twitter. That's when Time magazine stepped in and shut down his side of the story.
The publication tweeted a statement saying that Trump is incorrect about how they pick the Person of the Year. As we know, it's very in character for Trump to make up whole incidents entirely, spinning them to make himself look good. It usually has the opposite effect.
Trump does seem to be inordinately obsessed with Time magazine's honor, like an attention-deprived child yearning for a gold star. He tweeted in 2015 about how the magazine "would never pick" him for the honor. It's hard to imagine a situation where, say, former President Obama would care more for a relatively pointless honor than for, you know, actually leading the country.
https://www.instagram.com/p/Bb5tktCnQ_V
Here's the tweet that sparked it all.
https://twitter.com/udfredirect/status/934189999045693441
And here's Time magazine's retort.
Burn. We don't know who is telling the truth (though we can probably guess), but this situation has proved ample fodder for Twitter comedians.
Actor and comedian Billy Eichner weighed in on the situation with some good jokes.
Podcast host and writer Bobby Finger remixed Trump's quote and applied it to Frances McDormand.
false
At least we can still have Twitter jokes, even when the world is in flames. Stay tuned to see who will be crowned Time magazine's Person of the Year.