Donald Trump says he always knew Roy Moore would lose, because of course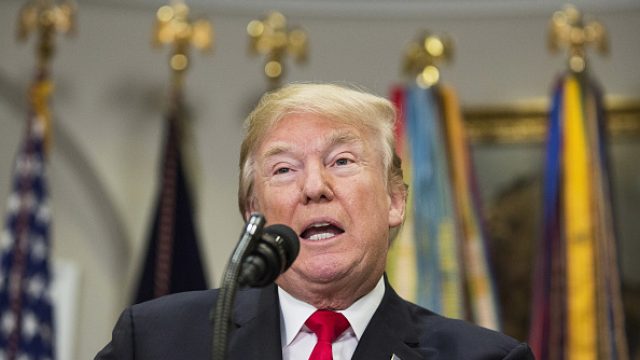 In a historic victory, Democrat Doug Jones defeated Republican Roy Moore in the Alabama Senate election on December 12th. And President Donald Trump congratulated Jones on Twitter — but not without saying that he knew Moore would lose.
Though not enthusiastic, Trump's tweet on the evening of December 12th offered a reluctant congratulations to Jones. While he wrote that "write-in votes played a very big factor" in Jones' win, Trump congratulated the victor and said that Republicans would simply have to try again.
But Trump didn't leave it at that. Later, the president credited himself with knowing all along that Moore would lose. In an early morning tweet on December 13th, Trump said that he originally endorsed Moore's opponent, Luther Strange, during the Republican Senate primaries because he didn't think Moore could win the general election. "I was right!" the Commander-in-Chief gloated.
It's worth noting that, after Moore defeated Strange in the run-off election for the Republican primaries, Trump scrubbed his Twitter account of all tweets supporting Strange.
https://twitter.com/udfredirect/status/940795587733151744
https://twitter.com/udfredirect/status/940904649728708609
With a little more than a week left in the election, Trump officially endorsed Moore on December 4th, after weeks of openly opposing Jones. Trump campaigned for Moore in the final days of the election, recording a robocall in support of Moore and using Twitter as a platform to urge Alabamans to choose the Republican candidate.
https://twitter.com/udfredirect/status/940584383605563392
Moore has been accused of making advances toward, and, in some cases, sexually assaulting women when they were teenagers. After the initial allegations, Trump issued a response stating that Moore should end his campaign if the allegations were true, but that "mere allegations" shouldn't ruin Moore's life. But Trump later dismissed the accusations entirely, citing Moore's denial.
Trump's rapid about-face after advocating so hard for Moore during the campaign might have been shocking at one point, but now it seems completely in character. After all, Trump hates losers. But whether or not Trump knew Moore would lose isn't important. All that matters is that Alabama voters listened to Moore's accusers and chose not to elect him.