Rihanna made it clear she doesn't want Trump using her music at his "tragic" rallies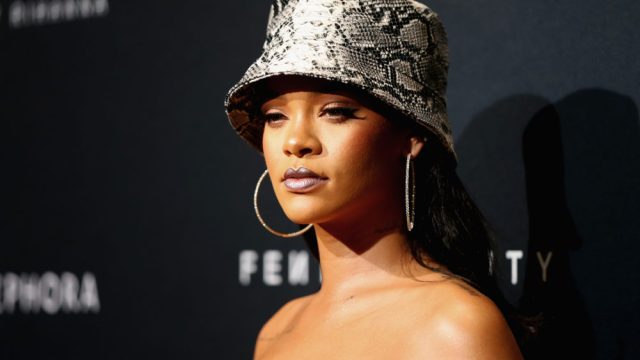 As one of the most divisive figures in American politics (and perhaps in American history), President Donald Trump has angered musicians from Queen to Pharrell Williams by playing their songs at his rallies. Rihanna is the latest artist to get involved, firing back when she learned that one of her songs played at one of Trump's, as she describes, "tragic rallies." (And she's not wrong.)
In a November 4th tweet, Philip Rucker, White House Bureau Chief for The Washington Post, wrote that Rihanna's hit "Don't Stop the Music" played at a Trump rally in Chattanooga, Tennessee. The journalist said the song was playing while campaign aides tossed T-shirts into the crowd, and that "everyone [was] loving it." But Rihanna, it turns out, was not.
The singer and creator of Fenty Beauty tweeted a savage response to Rucker's report, hinting that she might try to stop Trump's team from playing the song in the future.
"Not for much longer," she wrote, "me nor my people would ever be at or around one of those tragic rallies, so thanks for the heads up philip!"
We don't know if Rihanna has sent a cease-and-desist order to Trump yet, but the star has made her political stance abundantly clear. Her comment on the use of "Don't Stop the Music" came shortly after she endorsed Democrat Andrew Gillum for governor of Florida in an Instagram post.
"FLORIDA: You have the opportunity to make history this election," she wrote in her post. "The US has only had four black Governors in its entire history, and we can help make #AndrewGillum the next one and Florida's first!"
Glad we can always count on Rihanna to speak her mind.