All the things Donald Trump has tweeted about instead of acknowledging Pride Month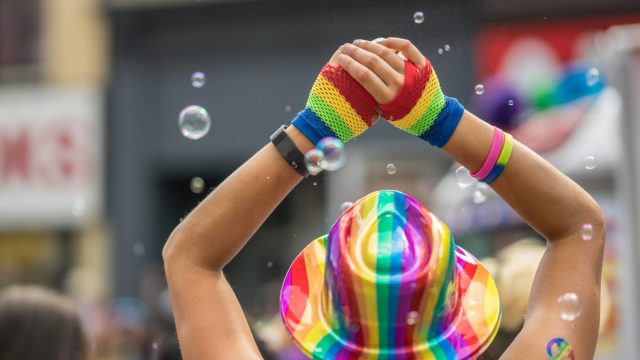 During Pride Month in 2016, then-presidential candidate Donald Trump promised to fight for LGBTQ communities if elected. Two years later, the president has once again failed to officially designate June as Pride Month in the United States. And while it isn't surprising, it is infuriating.
Trump hasn't been a friend to the LGBTQ community since his inauguration. Whether he's scrubbing references to LGBTQ individuals from government websites or trying to ban transgender soldiers from serving in the military, his utter disregard for these communities has been on full display. Ignoring Pride Month is just one more example.
LGBTQ pride is celebrated every June in honor of the 1969 Stonewall riots. Over time, the event grew from a single day to a month-long series of events that includes parades, picnics, festivals, and concerts. It's become an opportunity for the LGBTQ community to honor their contributions to history, as well as to remember those who've been lost during the ongoing struggle for equal rights.
Trump certainly isn't the first Republican president who has declined to recognize Pride Month. Former President George W. Bush failed to do so during his two terms in office; however, Barack Obama quickly reinstated the tradition upon assuming the presidency.
"During Lesbian, Gay, Bisexual, and Transgender Pride Month, we celebrate the proud legacy LGBT individuals have woven into the fabric of our nation, we honor those who have fought to perfect our union, and we continue our work to build a society where every child grows up knowing that their country supports them, is proud of them, and has a place for them exactly as they are," Obama wrote in his June 2015 proclamation.
The Supreme Court legalized same-sex marriage that same month, after which Obama ordered the White House to be lit up with rainbow lights.
Instead of recognizing Pride Month, Trump has spent the first days of June doing what he does best: tweeting.
He continued to downplay the Russia investigation:
https://twitter.com/udfredirect/status/1002506360351846400
https://twitter.com/udfredirect/status/1002508937445478402
He attacked a U.S. ally:
https://twitter.com/udfredirect/status/1002539852171304960
He complimented himself:
https://twitter.com/udfredirect/status/1002877499448152065
He tried to discredit special counsel Robert Mueller:
https://twitter.com/udfredirect/status/1003328970069331968
He distanced himself from a former member of his inner circle:
https://twitter.com/udfredirect/status/1003268646070874113
And he criticized what he deemed "fake news":
https://twitter.com/udfredirect/status/1002954515941941249
Trump's silence on Pride Month in favor of his typical Twitter rants hasn't gone unnoticed. But as The Washington Post pointed out, any recognition at this point would be "nothing more than a box ticked." The LGBTQ communities deserve a president who actually cares — and unfortunately, they won't find one in the current White House.