Trump praised the Republican candidate who body-slammed a reporter—"He's my kind of guy"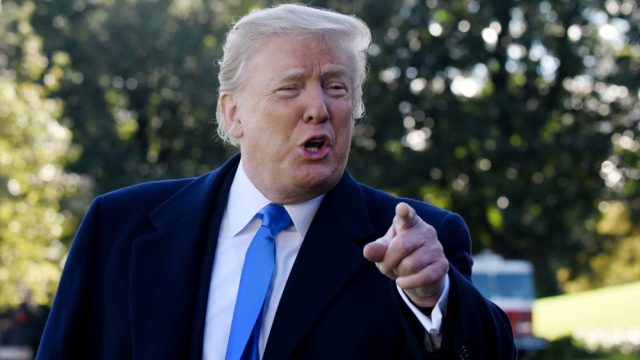 Donald Trump's attitude toward the press is infamously hostile. The 45th president frequently derides credible reports as "fake news," and he's joked about getting violent with the media. But Trump recently took his media-bashing a step further when he praised a Republican candidate who attacked a reporter in 2017.
The New York Times reports that at an October 18th rally in Missoula, Montana, the president urged his supporters to re-elect Republican Representative Greg Gianforte in November. As The Times notes, Gianforte made headlines in spring 2017 when he body-slammed Ben Jacobs, a reporter for The Guardian. He was sentenced to anger management classes and community service for his actions.
While addressing the crowd in Montana, Trump suggested that he admired Gianforte's attack.
"Any guy that can do a body-slam, he's my kind of guy," he told the crowd.
Trump continued by saying that he had initially been worried about Gianforte losing Montana's May 2017 special election when he heard the news, but he quickly changed his mind.
"I had heard he body-slammed a reporter," Trump recalled. "I said, 'Wait a minute. I know Montana pretty well; I think it might help him.' And it did."
The Guardian issued a statement regarding Trump's praise of Gianforte, condemning the president's "attack on the First Amendment."
"The president of the United States tonight applauded the assault on an American journalist who works for The Guardian," his statement read in part. "To celebrate an attack on a journalist who was simply doing his job is an attack on the First Amendment by someone who has taken an oath to defend it."
According to The Bozeman Daily Chronicle, Gianforte was elected to the U.S. House of Representatives the day after he threw Jacobs to the ground. In June 2017, he pleaded guilty to a charge of misdemeanor assault for the attack, and later, he apologized to the reporter, promising to donate $50,000 to a journalism nonprofit.
Trump's praise of Gianforte comes amid concerns over the disappearance of Jamal Khashoggi. As CNBC news notes, the Saudi Arabian journalist, who lived in the U.S. and wrote for The Washington Post, has been missing since October 2nd when he visited the Saudi consulate in Istanbul. Turkish officials have claimed that he was murdered. With Khashoggi's possible death looming in the background, the president's willingness to condone violence against the media is more unsettling than ever.
https://twitter.com/udfredirect/status/1053166523852963840
The president of the United States should be supportive of free speech and a free press, but Trump has consistently cast the media as the enemy of the people—which could have very real and dangerous consequences. Now, more than ever, we need to take a stand against this behavior and vote in the upcoming midterm elections on November 6th.