Donald Trump just called Kim Jong Un "short and fat" in revenge for being called "old," so that's the world we live in right now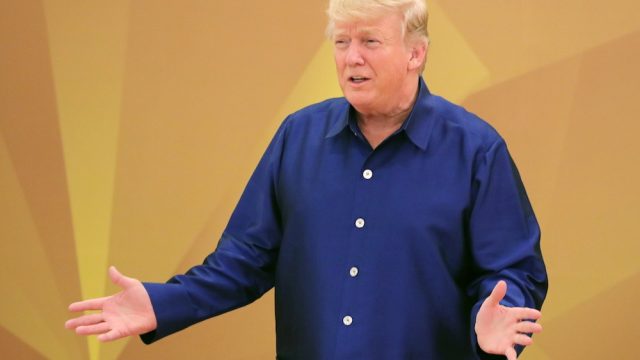 What would hurt you more, being called "old" or being accused of being a lunatic? Well, we don't have to wonder about Donald Trump's response to that question, since he's now made it pretty clear that he's upset that North Korean dictator Kim Jong Un called him old. His latest presidential tweet is in response to Kim Jong Un's opinion of Trump's recent speech in South Korea. Kim Jong Un reportedly said that Trump's speech consisted of "reckless remarks by an old lunatic." President Trump took offense to that statement, and in keeping with his usual method of criticizing those who upset him, he took to tweeting about it. (Remember when that rogue Twitter employee briefly shut down Trump's account? We wish those ten minutes lasted forever.)
You might think there would be a certain level of diplomacy inherent in dealing with any foreign power, but Trump seems incapable of writing mature tweets, let alone mincing words. When it comes to North Korea, rarely have world leaders engaged in so much taunting of those in power. But Trump has no problem sounding off against them, either in official speeches or on Twitter.
https://twitter.com/udfredirect/status/929511061954297857
Yep, this is our "Donald Trump is the president" reality.
Luckily, Twitter did what they could do lighten the mood.
https://twitter.com/udfredirect/status/929797606716428293
BTW, though, Trump: Saying you'd never call Kim Jong Un "short and fat" is, in effect, him calling him short and fat.
And Trump is objectively old – at 71, he's no spring chicken. But he doesn't focus in on the fact that Kim Jong Un called him a lunatic. Instead, he employs a school yard taunting method in his tweets. Which is, understandably, not great, considering the tense relationship he's already got with North Korean leaders.