Donald Trump Jr. says he likes poor people in India because they "smile," and Twitter is on fire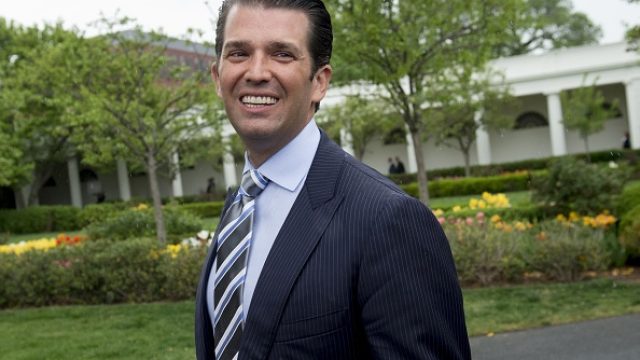 When Donald Trump was elected president of the United States, it was clear that the first family would have very little in common with most Americans. After all, Trump is the first billionaire elected as president, while the rest of the country still battles severe income inequality. But in a recent interview, the president's son, Donald Trump Jr., proved just how out of touch he is by praising India's poor because they "smile."
The eldest of the president's children arrived in India on February 20th, on a trip to sell Trump-brand apartments. When speaking to an Indian NBC affiliate that day, Trump Jr. lauded the "spirit of the Indian people," saying it was indicative of a bright future for the country. And he specifically commented that even the "poorest of the poor" seemed to be positive, although he acknowledged that being poor does come with hardships.
"I think there is something about the spirit of the Indian people that's unique here to other parts of the emerging world," Trump Jr. said in the interview. "I don't want to be glib, but you can see the poorest of the poor, and there's still a smile on a face."
According to the Washington Post, the future Trump apartments will be located outside of New Delhi, and apartments in the Trump Tower complex will sell for between $780,000 and $1.6 million. Local newspaper ads have reportedly offered a dinner with Trump Jr. as an incentive for would-be buyers.
https://www.youtube.com/watch?v=Q6vfaPuftmE?feature=oembed
Many Twitter users were quick to point out that the billionaire, who inherited his father's real estate business and attended prep schools as a child, seemed oblivious to his own privilege and condescension.
false
Even though he said he didn't mean to be glib, Trump Jr. managed to reduce India's entire poor population to a stereotype while ignoring the realities those living in poverty face experience. A man who was handed everything he owns should not be commenting on the "spirit" of the poor in any country — let alone one where he doesn't live. We need our leaders to do better.