Trump played golf while parents of the Florida shooting victims held funerals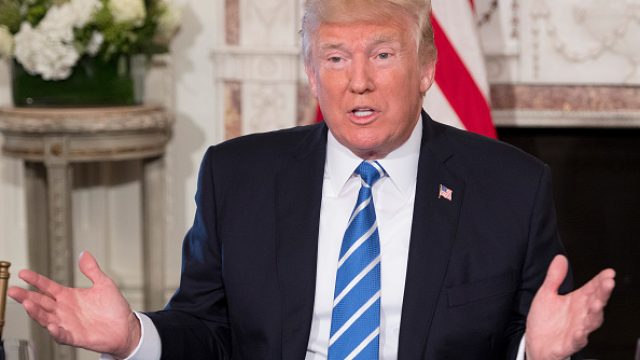 In the aftermath of a tragedy, the American people look to the president for support. But after a shooting claimed the lives of 17 people in Parkland, Florida on February 14th, Donald Trump largely failed to fill this role, instead playing golf while the victims' families buried their children and students in Washington, D.C. held a "lie-in" to protest gun violence.
Although Trump refrained from golfing on February 17th and 18th, by Presidents' Day, February 19th, he had returned to the course at his Mar-a-Lago resort. That same day, funerals were held for 14-year-old Alaina Petty and 15-year-old Luke Hoyer.
White House officials said that Trump had not gone golfing the previous two days as a sign of respect for the victims, and they didn't confirm if the president indeed went golfing at the course on the 19th.
That evening, CNN's Anderson Cooper called out Trump for his golf trip and for failing to mention the shooting's victims.
"The president tweeted and played golf today, a day that saw two families bury their children," Cooper said. "He did not mention them in his tweets."
https://www.youtube.com/watch?v=OMoY0SoP_b0?start=56&feature=oembed
Cooper noted that, rather than honoring the victims in his tweets, Trump redirected attention to the investigation into Russian collusion with his presidential campaign. Trump blamed the FBI's failure to investigate the suspected shooter on the investigation.
https://twitter.com/udfredirect/status/965075589274177536
Before his golf break, the president visited survivors of the shooting in the hospital on February 16th. During his visit, Trump praised the first responders and medical workers, while blatantly ignoring questions about gun control. Trump has yet to mention guns or gun violence in any public statement about the shooting.
Many survivors of the shooting have denounced Trump's condolences and said that they want stricter gun control laws instead. The students have organized the March For Our Lives, a national march against gun violence to be held on March 24th. And other students across the nation have protested, too. The group Teens for Gun Reform staged their lie-in protest outside the White House on February 19th, while the president golfed at Mar-a-Lago.
By neglecting to name the victims of the Parkland shooting and by golfing during their funerals, Trump has displayed a callousness toward those affected by this tragedy. We hope that, in the coming days, the president will acknowledge these grieving families and work to prevent mass shootings.