Twitter can't handle Donald Trump's bizarre comment about George Washington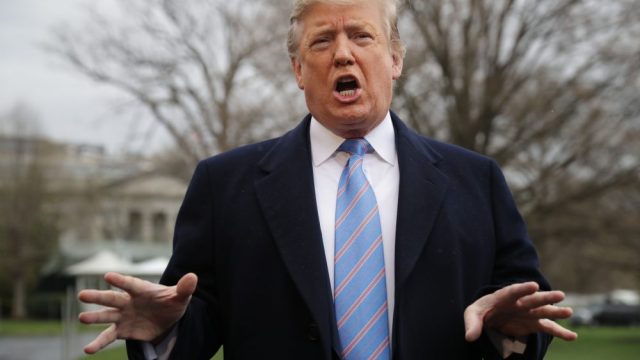 It feels like we can't go a single day without Donald Trump saying something either wildly offensive or completely nonsensical (and sometimes both). Who can forget the time he didn't know how grocery stores work? Or when he made the mystifying assertion that windmills cause cancer? And now, the internet has just learned that POTUS made another highly questionable comment…this time involving the first president of the United States, George Washington.
Politico first reported on the "truly bizarre" moment today, April 10th, noting that the president made the comment during an April 2018 private tour of Washington's estate, Mount Vernon, where he was accompanied by French President Emmanuel Macron and his wife.
"If he was smart, he would've put his name on it," Trump said, referring to the first president. "You've got to put your name on stuff or no one remembers you."
Trump's tour guide—the President and CEO of Mount Vernon, Doug Bradburn—reportedly then noted that the capital city of the entire United States of America is named after Washington. Trump's response? "Good point," said with a laugh. And according to Politico, Bradburn has told multiple people that the Macrons knew more about Mount Vernon than the American president. (Let that sink in.)
Twitter wasted no time in mocking Trump's comment. Because, like, nothing is named after Washington, right?
And nobody remembers him at all.
The Washington Post (note the name) has since reported on why Mount Vernon isn't named after the first POTUS. Apparently, it gets its name from British Admiral Edward Vernon, who was the commanding officer for Washington's half-brother Lawrence Washington. Lawrence gave the estate its historic moniker, and George kept it in honor of his brother.
https://twitter.com/udfredirect/status/1115999108110725120
Let's just hope Trump uses this as a learning moment (even though we have a feeling he won't).