Trump once faked a phone call to get on the Forbes 400 list, and yeah, that seems right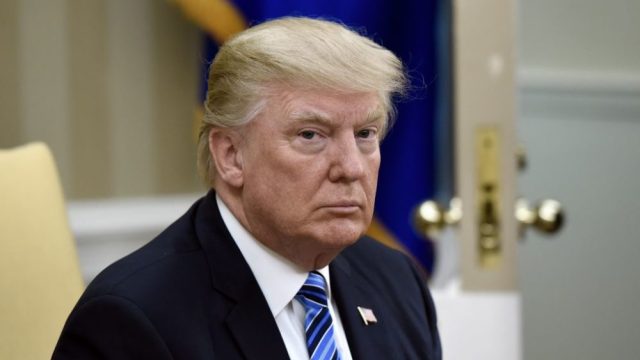 By now, the fact that Donald Trump routinely lies is old news. The president has reportedly fibbed about everything from the crowd size at his inauguration to how much he paid for Melania Trump's engagement ring. And a new article from a former Forbes reporter has revealed that Trump's dishonesty stretches back decades, claiming that Trump once lied his way onto the Forbes 400 Riches Americans list.
In a story for the Washington Post published today, April 20th, Jonathan Greenberg wrote that in 1984 Trump called him, pretending to be a Trump Organization executive named John Barron. According to Greenberg, "Barron" told him that Trump had largely assumed control of the business he shared with his father, Fred Trump. The call led to Trump's net worth being valued at $400 million and earned him a high spot on the Forbes 400 that year. And the budding real estate tycoon was listed as having a net worth of $100 million on the first Forbes 400 in 1981. However, Greenberg wrote that Trump's actual worth in the early '80s was less than $5 million — meaning he shouldn't have been included on the list at all.
The audio recording of Greenberg's call with "Barron" was featured on this morning's episode of CNN's New Day. And Greenberg spoke about how he had been tricked by Trump.
"He figured out what he had to do in order to deceive me and get onto that list," Greenberg told host Chris Cuomo. "And he did it very well. And he maintained that persona of just sort of talking about his assets without any sense of debt and lying about it."
In May 2016, the Washington Post reported that Trump had routinely used the pseudonyms "John Barron" and "John Miller" to brag about himself when speaking to reporters in the '70s, '80s, and '90s. And two weeks after the article was published, Trump himself admitted to using aliases on Jimmy Kimmel Live.
It's not surprising that Trump would lie to get on the Forbes 400 list after all of the misleading statements he's made as president. But even though this behavior is routine for Trump, it's still appalling for a world leader. We need our president to do better.