Donald Trump finally commented on the false missile alert in Hawaii, and his response is unsettling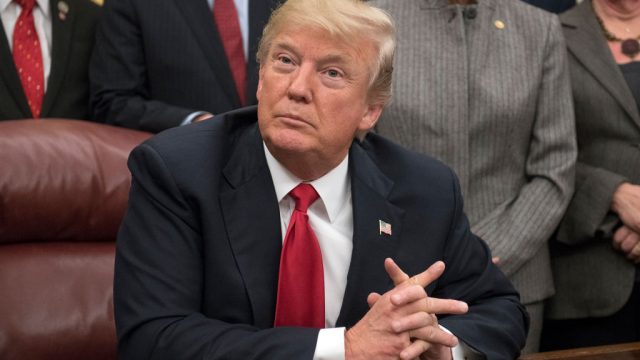 If waking up at 8 a.m. on a Saturday sounds like a nightmare to you, imagine doing it because of an emergency missile warning. That's what happened in Hawaii on Saturday, January 13th. Many people expected Trump to speak about terrifying false missile alert in Hawaii that day, but he didn't address it right away. Instead, he waited until the next evening.
If you missed the story about the false missile alert in Hawaii, it is probably even more terrifying and WTF-worthy than you might think. On the morning of the 13th, an alert flashed on the phones of Hawaiian residents and tourists that read, "BALLISTIC MISSILE THREAT INBOUND TO HAWAII. SEEK IMMEDIATE SHELTER. THIS IS NOT A DRILL." Apparently, an employee accidentally pushed the wrong button.
It took a whole 38 minutes of what one can only imagine was utter chaos for a correction alert to reach people's phones. The missile warning was a complete mistake. But Donald Trump's questionable international diplomacy tactics as of late — like calling several nations "shithole countries" and posting unbelievable Tweets about Kim Jong-Un and North Korea — have put many on edge.
Rather than assuage everyone's fears about the false missile alert in Hawaii, Trump's statement on the events suggested that such a fearful climate will only continue. According to The Hill, Trump responded on the night of Sunday, January 14th, saying that he will "see what happens with North Korea." That's not quite the reassurance anyone hoped for.
Here's more of what Trump said about the false missile alert in Hawaii.
"That was a state thing but we are going to now get involved with [Hawaii]. I love that they took responsibility. They took total responsibility," Trump told reporters. "But we are going to get involved. Their attitude and their — I think it is terrific. They took responsibility. They made a mistake."
Someone asked Trump what he'll do to prevent this from happening again. His response? "We hope it won't happen again."
Following the false missile alert in Hawaii, many took to Twitter to criticize Trump's response — or lack thereof.
Author Reza Aslan pointed out that Trump did not immediately attempt to quell people's fears.
Even after the event took place and everyone learned that the missile alert had been a mistake, Trump remained silent on the matter for the rest of the day, and well into the next. But the Twitter-happy president did take to his favorite medium to criticize "fake news."
https://twitter.com/udfredirect/status/952301373479104512
Trump also hinted at the potential for further international relations discussion between the U.S. and North Korea.
"Part of it is people are on edge, but maybe eventually we will solve the problem so they won't have to be so on edge," Trump told reporters. "We have great talks going on. The Olympics, you know about. A lot of things can happen."
Rather than saying "A lot of things can happen," perhaps Trump should have been more specific. His current tormenting of North Korea's Kim Jong-un has caused people to expect that those "things" might be nuclear missiles.
Celebs have taken to Twitter to reprimand Trump for allowing people to live in such fear.
Jim Carrey, who said he received the terrifying missile alert, warned people about how it could be a foreboding mistake.
Meanwhile, Jamie Lee Curtis called out the president directly.
Jeffrey Wright did too.
While it's comforting to know that the false missile alert in Hawaii was a mistake, we wish the president had a better response.