President Trump may have fallen asleep during the queen's speech, and he got the royal meme treatment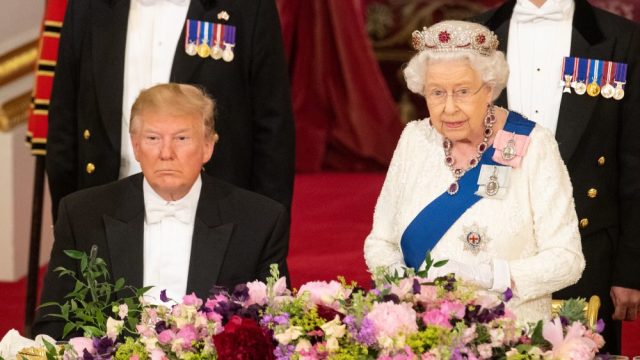 It has only been about a day since President Donald Trump arrived in the U.K. for his state visit, and things are already interesting. The president got a less-than-warm welcome on June 3rd with a giant penis mowed into a lawn so he'd see it from his flight, and CBS News notes that London citizens greeted him with protests. Still, Trump hasn't let a little unrest stop him from conducting official business, and he concluded the first day of his trip by attending a state dinner with the royal family (minus Prince Harry and Meghan Markle, who were on new parent duty). During Queen Elizabeth II's speech that night, however, the president seemed to be nodding off—and naturally, the internet had a field day.
According to Reuters, the June 3rd dinner was the first British state banquet that the Trumps have attended. Both the U.S. president and the British monarch gave speeches honoring the two countries' relationship. But one Twitter user noticed that while the queen was speaking, the president appeared to be falling asleep. The close-up video of Trump's face has been retweeted nearly 8,000 times. It's hard to tell for sure if the president really was resting his eyes or if he was just blinking very slowly, but the video does show his eyelids fluttering a couple of times. He could have been feeling jet-lagged after a day of travel, or maybe all that late-night tweeting finally caught up to him.
https://twitter.com/udfredirect/status/1135638906433679362
Twitter, however, wasted no time in making the moment a meme.
Some called the president "sleepy" or "low-energy" in reference to his nicknames meant to taunt politicians like Joe Biden and Jeb Bush.
false
Some had other jokes.
https://twitter.com/udfredirect/status/1135652042309943296
One user even found the moment relatable.
CNN reports that Trump continued his state visit today, June 4th, by meeting with outgoing Prime Minister Theresa May. Tomorrow, June 5th, he will head to Portsmouth, England, to commemorate the 75th anniversary of D-Day. With a full schedule ahead, let's hope the president gives his tweeting thumbs (and his eyes) a rest.