Donald Trump just denied reports that Melania didn't want to be First Lady, and we don't know what to think anymore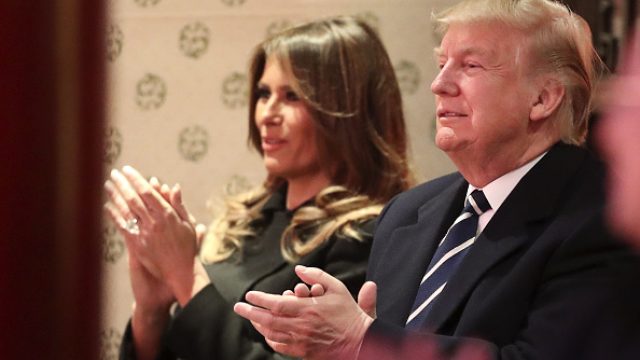 First lady Melania Trump has been a source of mystery since the inauguration, and many have speculated she's unhappy in her role. But President Donald Trump denied these rumors when he tweeted that Melania Trump "truly loves what she is doing" on November 28th.
The tweet comes after the publication of a recent Vanity Fair article that claims Melania is unhappy in such a public role. In the article, an unnamed Trump family friend is quoted saying that she never wanted to be First Lady.
"This isn't something she wanted and it isn't something he ever thought he'd win," the source told Vanity Fair. "She didn't want this come hell or high water."
Melania's spokesperson denied the article's claims on November 27th, telling Fox News that the assertions were "salacious and false." Trump's tweet also rebuked the idea that his wife is a reluctant First Lady.
"Melania, our great and very hard-working First Lady, who truly loves what she is doing, always thought that 'if you run, you will win,'" he wrote.
https://twitter.com/udfredirect/status/935493619204620288
Rumors have long swirled that Melania does not enjoy her public role. She made headlines earlier this year when she didn't move to the White House until June, choosing to remain in New York City until her son, Barron Trump, finished school for the year. Her private nature has led some to even concoct the crazy theory that she uses a body double.
While we can't be sure what the First Lady thinks about her role until she herself speaks up, Trump's history of exaggeration, twisting the truth, and straight-up lying complicates his claims that his wife is happy. We're squinting hard at Trump's tweet, and we're genuinely not sure if it's fake news or not. For Melania Trump's sake, we hope this time the tweet rings true.