Donald Glover very politely demanded to be cast as Lando in the Solo movie — and it clearly worked
While Donald Glover seems like the no brainer choice for a younger Lando Calrissian, it turns out the Atlanta creator's agent warned him about the odds of nabbing the role — and they initially weren't very good.
Ahead of the Solo: A Star Wars Story premiere in Los Angeles on May 10th, Glover stopped by Jimmy Kimmel Live!, where he revealed he really, really wanted to be Lando in the Han Solo origin story. Before inviting the entire studio audience to join him at the premiere, Glover revealed what it was like stepping into the iconic cape and how much he had to advocate for himself to get there. Like the dutiful Star Wars fan that he is, Glover said that when he heard about the Han Solo film, he knew Lando *had* to be in it…and, in turn, he had to be Lando.
However, Glover's agent wasn't quite so optimistic.
"I told my agent — I was like, 'If they're making a Han Solo movie, Lando's got to be in it and I want to be Lando,'"Glover revealed. "And to his credit — and I appreciate it — he was like, 'I don't like your odds,' which was awesome because I was like, 'I'ma get this.'"
Pro tip: Never tell Donald Glover the odds.
Glover added that the part meant so much to him because his first toy was a Lando figure given to him by his dad, a massive Star Wars fan. After nabbing the part, the first person the actor called was his dad — before ordering an entire pizza and watching The Empire Strikes Back because…research.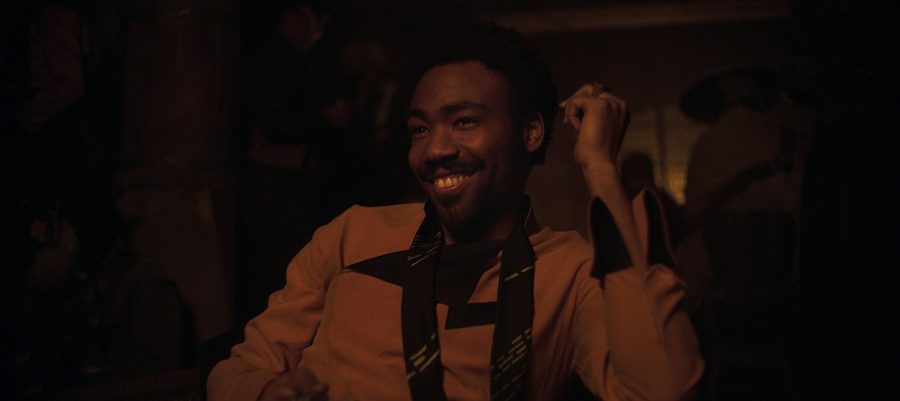 Glover also revealed that as part of his research he met with the OG Lando Calrissian himself, Billy Dee Williams. Inspired by Alden Ehrenreich's deep dive into Han Solo, Glover created an elaborate back story for the charming smuggler to really get into the Lando head space.
However, when he met with Williams, the actor's advice was much simpler…and much moreLando. On how to truly embody Lando, Williams told Glover, "I don't know, just be charming, man."
Here's Glover's whole Lando story:
https://www.youtube.com/watch?v=NQSuMJ8CMcg?feature=oembed
The odds may have been against him, but Glover seems like the perfect successor to Billy Dee Williams' iconic character.
Solo: A Star Wars Story opens on May 25th.