Donald Glover just low-key announced he and his partner are having another baby — all while accepting an Emmy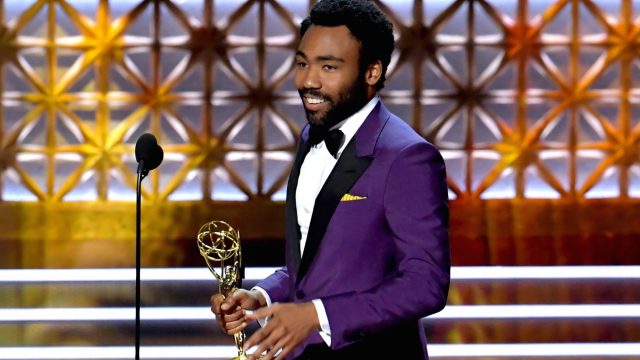 If we're going to name one overall winner of the 2017 Emmys, it's going to be Donald Glover. He was nominated for three awards — Outstanding Directing, Outstanding Writing, and Outstanding Lead Actor, all for his FX series, Atlanta. By the end of the night he had managed to snag two of them, for Directing and Lead Actor. ALSO, Glover is now the first black director to win for Outstanding Directing for a Comedy Series.
So yeah, he's having a pretty good night, and that was clear when he took the stage for the second time of the evening to pick up his award for Lead Actor. While accepting the award, he thanked the usual group of people, like his mom and dad, the city of Atlanta, and FX. Then, he gave a shout to a one Michelle — his partner.
And! Not only that, Glover low key dropped the fact that he and Michelle are expecting another baby. 
For his rising star power, Glover has kept his private life very private. Last year, it was reported (but never really confirmed) that Glover and his girlfriend at the time (presumably, Michelle) had just welcomed a new baby, a son. But he's never talked about it publicly before, nor have the two ever made a public appearance.
But now, thanks to Glover's acceptance speech, we know there's another 'lil Glover on the way, and another little boy!
"I want to thank Michelle, my partner, you love me no matter what," he said on the Emmy stage. "I want to thank my son, [and] my unborn son — we're listening to Stevie [Wonder] tonight!
Wow, whoever is cutting onions in here needs to stop, because I'm not crying, you're crying.
Major congrats to Glover on his continuing success, and his ever growing family. Also, FYI, Atlanta is now on Hulu, you're welcome.