Donald Glover improvised all his lines about diversity on "Girls"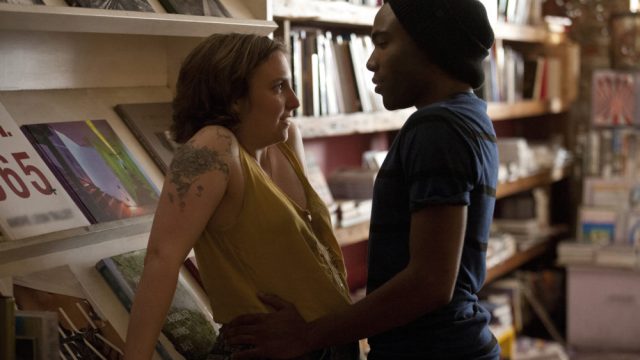 Donald Glover can pretty much do anything. The actor/producer/musician/comedian will return to our TV screens this week in the second season premiere of his FX show Atlanta, which already nabbed him an Outstanding Lead Actor in a Comedy Series Emmy for its inaugural season. His musical alter-ego Childish Gambino won his first Grammy last month. He'll voice Simba in the upcoming live-action Lion King remake. So, we can't say we were that surprised to learn that he also dropped some serious knowledge to get Lena Dunham thinking during and after his two-episode arc on Girls back in 2013 in a new New Yorker profile about the multi-hyphenate artist.
The profile examines Glover's talents and cultural sway, from his unconventional upbringing as a Jehovah's Witness who was only allowed to watch PBS, to his creative problem-solving in figuring out how to convince network execs to greenlight his groundbreaking comedy series. The New Yorker writer, Tad Friend, spoke with Dunham for the piece and detailed her experience working with Glover on her HBO show. Girls had famously been criticized for its lack of diversity and Glover suspected that's why he'd been cast to play Hannah's boyfriend. Dunham didn't exactly comment on that, but did say that Glover's character's critiques of Hannah and her friends' clueless and entitled privilege was entirely improvised.
Lines like, "'Oh, I'm a white girl, and I moved to New York and I'm having a great time,' and,"'Oh, I've got a fixed-gear bike, and I'm going to date a black guy and we're going to go to a dangerous part of town,'" were Glover's character Sandy mockingly imitating Dunham's character Hannah during their breakup scene.
"Every massive insult of white women was one hundred per cent him," Dunham said of the scene in the New Yorker profile. "I e-mailed him later to say 'I hope you feel the part on Girls didn't tokenize you,' and his response was really Donald-y and enigmatic: 'Let's not think back on mistakes we made in the past, let's just focus on what lies in front of us.'"
Glover's insightful improvised commentary on Girls problematic white characters and storylines, and his sage response to Dunham's follow-up email feel like classic Glover. As the rest of the profile illustrates, Glover has a gift for reading people. This exchange is one of many in the story that shows he uses that talent to create thought-provoking, authentic art. In this case, Glover called out Dunham's character and a long history of real people like her, while also emphasizing the importance of looking forward.
Dunham herself has a history of being criticized for problematic statements and actions (see: her controversial comments on abortion, her defense of a Girls writer accused of sexual misconduct, etc.), but she seems to have nothing but respect for Glover and the wide scope of work he creates. "At least 20 people have told me, 'I'd like to make something like Atlanta.' And I say, 'Oh, you mean a show that toggles between painful drama and super-surrealist David Lynch moments to take on race in America?'" she said. "That's not a genre — that's Donald," she told Friend for the story.
Glover's one-of-a-kind style makes its Season 2 comeback in Atlanta on FX Thursday, March 1st.