Donald Glover just bought 113 boxes of Girl Scout Cookies — because he can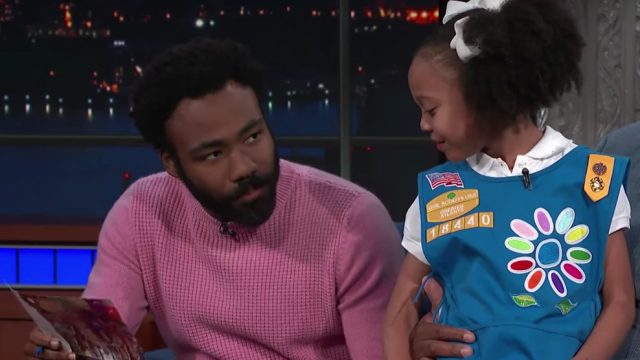 Things you never really expect to hear: "Childish Gambino is for the children." As amazing as Donald Glover's rap alter-ego Childish Gambino may be, his lyrics and songs definitely are not *kid friendly.* But that didn't stop one enterprising Girl Scout from co-opting one of Childish Gambino's songs and turning the lyrics into a strategic way to sell Girl Scout Cookies. This girl is going places.
In a now-viral video posted online in February, Charity Joy's father Seymore Harrison Jr. filmed her singing in the backseat of a car to the Grammy award-winning song "Redbone," with a few tweaks to the words here and there. "Thin Mints, you wanna order some before it's too late / We also got Trefoils and they taste great," Charity sings. So when Glover went on The Late Show with Stephen Colbert, the rapper-comedian-actor-director-writer-producer admitted he was blown away by Charity's video.
"It's beautiful but it's also crazy to me," Glover says. "I never was like, 'I'll make this and then one day a little girl will sell Girl Scout Cookies to it.' I would actually really like to buy some from her."
https://www.youtube.com/watch?v=ODqU-Gd7uxE?feature=oembed
Well, luckily, Colbert is a consummate professional and was prepared for this exact moment, because he brought out Charity and her father. When she handed him her Girl Scout Cookie order form, he noticed she needed to sell 113 more boxes to hit her goal. So of course Glover bought exactly 113 boxes. Because he can. And because he's the best. He got some Thin Mints, natch, but we are dying to know what his No. 2 favorite Girl Scout Cookie is. We're thinking Tagalongs. And if you want to buy your own large bulk quantities of Girl Scout Cookies, visit www.girlscoutcookies.org.
https://www.youtube.com/watch?v=itE8Cd85-QM?feature=oembed
Before he met Charity, Colbert also had Glover attempt to explain why being a rapper can be super awkward. Apparently there's champagne involved, "butts close to your face," and somehow Whole Foods is factored in? It's really just delightful. Do yourself a favor and watch his whole segment above while we practice our Donald Glover vs. Childish Gambino faces.