Domino's just launched a chocolate pizza, but there's a catch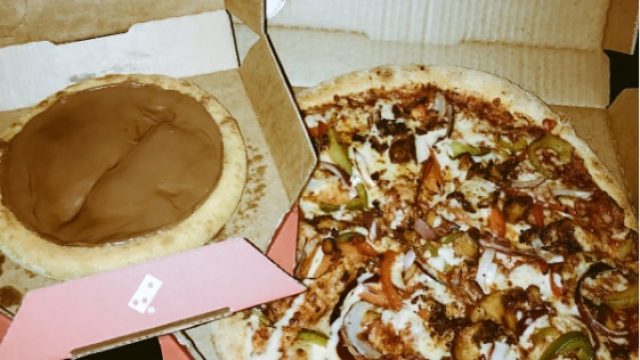 What is better than pizza? Not much, in our book. Pizza is one of those treats that you never get sick of, no matter how old you get. So when we say that Domino's has seriously stepped up the pizza game, believe us. We would not joke around about something so important.
How did they do that, you ask?
Adding chocolate. That's right, there is now a chocolate pizza available for purchase at Domino's.
Excuse us while all our dreams come true.
The Lotta-Chocca pizza is exactly what it sounds like. Pizza, with a lot of chocolate. According to Cosmopolitan, the pizza is made with a Domino's 6-inch pizza crust and filled with melted chocolate. It's not something we could have ever cooked up ourselves, but now we want it. There is, however, one important catch.
https://twitter.com/udfredirect/status/878346430510899200
Domino's Lotta Chocolate pizza is currently only available in the UK.
 A spokesperson for Domino's confirmed this in an interview with Digital Spy. So if you live in the UK, congratulations! Chocolate and pizza fans the world over are very jealous of you. If you don't, fear not! This idea already seems super popular, so we're we hope we will be seeing it in Domino's shops all across the globe soon.
And honestly, who needs to wait for Domino's?
Even though this is an awesome idea and we all really want to try the Domino's version, technically, we are all capable of making chocolate pizza at home. Sure, it's so much better when it's delivered to your front door in a pretty box. But this is one of those amazing ideas that can't wait. So what do you think? Are you as excited for chocolate pizza as we are?