6 resources for people experiencing domestic violence and abuse during the coronavirus pandemic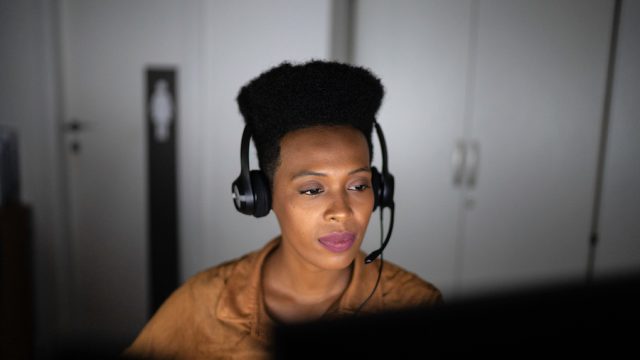 We've been told over and over that staying home amidst the coronavirus (COVID-19) pandemic is the safest thing for the general population—but that doesn't mean it's safe for everyone. For some people, the stay-at-home mandates mean being stuck in settings of violence and hate, causing them to spend this time fearing for their mental and emotional wellbeing as well as for their physical safety. As reported by NBC, domestic violence rates have gone up across the country amidst the coronavirus pandemic, with police in Houston and Cherokee County, South Carolina, for instance, reporting 20 and 35 percent spikes, respectively, from February to March in calls about abuse.
Fortunately, there are people who are looking out for those in unsafe home situations and doing what they can to offer help and support. Just last week, Rihanna donated $2.1 million to aid domestic violence survivors during coronavirus—some of whom have been turned away at shelters due to increased demand, Rolling Stone reports. Meanwhile, domestic violence organizations, such as those listed below, are working to maintain their 24-hour hotlines and provide remote services to support those in need.
As information about the increased rates of domestic violence and abuse spreads, however, there's been some confusion about the best way to offer support to survivors at this time.
Some individuals are suggesting that people in emergencies use code words, like "makeup," as a discreet way of seeking out support. Yet Women's Aid, a national charity working to end domestic abuse against women and children, wrote in a post that "community code words can work well in places of work or between friends, but ad hoc word schemes—though well intentioned—can risk confusion and not practically help survivors reach the support they need." Instead, the organization, along with others, has urged people to share information about resources from those trained in the space of domestic violence and abuse rather than encourage the use of code words.
If you are in a situation of domestic violence or abuse yourself, or if you're looking to help someone who is, reference the list of resources below.
Resources for survivors of domestic violence and abuse:
The National Domestic Violence Hotline is a 24/7 organization providing direct resources to anyone affected by domestic violence. To contact the hotline, call 1-800-799-SAFE (7233) and mention its guide on staying safe during coronavirus (found here).
Safe Horizon, a crime victim assistance program and nonprofit, has an online chat service available Monday through Friday from 1—6 p.m. EST and the domestic violence hotline is available 24/7. To reach it, call 1-800-621-HOPE (4673).
Loveisrespect is a national resource for teens experiencing dating violence and abuse. To reach the 24-hour hotline, call 1-866-331-9474 or text "loveis" to 22522.
The coronavirus pandemic is also posing a threat to many LGBTQ+ individuals who are in unsafe home situations or may be struggling from the loss of positive social support outside of their homes.
Below is a list of organizations dedicated to supporting LGBTQ+ communities throughout the pandemic and beyond.
Resources for members of the LGBTQ+ community in need of support during the pandemic:
The Trevor Project "is committed to ensuring that LGBTQ youth are supported throughout this pandemic by providing 24/7 access to an affirming international community for LGBTQ young people and trained crisis counselors to talk directly with youth with youth in crisis," its website reads. Call 1-866-488-7386 to get in touch.
New York City's Lesbian, Gay, Bisexual, & Transgender Community Center is currently closed due to the coronavirus pandemic, but remote services—including one-on-one sessions and guided meditations—can be found here.
The LGBT National Youth Talkline provides a safe space for those under the age of 25 to anonymously seek support. To reach the hotline, call 1-800-246-7743, and check here for the hours. Those under the age of 20 can also join the weekly moderated chat rooms here—there's one for all LGBTQ teens and another just for trans teens. The chat rooms also have extended hours until May 1st.