Bao's Domee Shi went from Pixar intern to the animation studio's *first* female director in only seven years
Since Pixar was first founded back in the mid-1980s, there have been roughly 35 Pixar short films. Can you guess how many of them were directed by men? If you guessed, "35" you'd be correct! Since the first Pixar short in 1984, every single short that's played before a Pixar feature length film, or included on a DVD extra, or showcased on Disney Channel, has been directed by a man.
That is, until Bao.
It only took 34 years, but Pixar finally has their first female director — and while we're still waiting on a lady to take the helms of a 90-minute feature for the animation studio (Brenda Chapman started directing Brave, before she was replaced on the film) it's time to get to know Domee Shi. With Bao, a short she wrote and directed, Shi is now the first female ever at the studio with a solo directing credit to her name.
And even more impressive, she started out as a Pixar intern back in 2011. After rising in the ranks, and successfully pitching a short to the animation studio, seven years later she's got a short that will play before Incredibles 2, which is tracking to have the biggest opening for an animated film of all time — and that's certainly something to celebrate for a first time female director. Literally so many people on the planet are going to watch the heartwarming dumpling tale in Bao (and yes, some will cry).
Ahead of the short's release with Incredibles 2, HelloGiggles sat down with Shi and Bao producer Becky Neiman to talk all things Pixar, stir fry, and and what the two are doing to put more female filmmakers in the spotlight.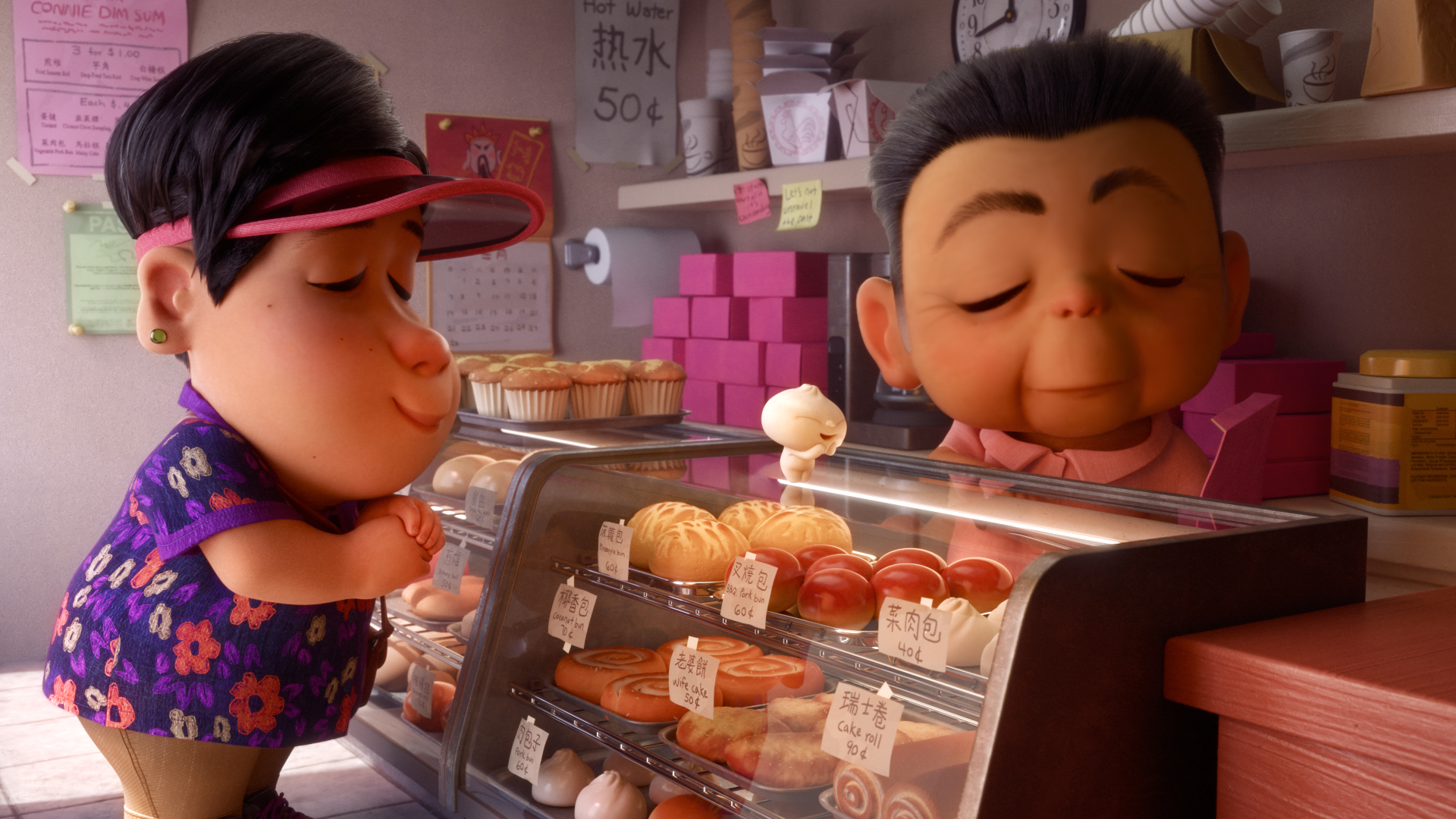 HelloGiggles: I want to start off with the most basic question. How did you get your job here at Pixar?
Domee Shi: I applied for the Story Internship in 2011 and I got it, but I got rejected the first time. I worked really hard on my portfolio and I got accepted the second time. I did the Story Internship throughout the summer. It's kind of like storyboarding bootcamp. I did a bunch of assignments every single week and we pitched them to a room full of veteran story artists and story supervisors. After the whole internship was over, Pixar offered me a full-time story artist position on Inside Out and I accepted. I couldn't be happier and I've been there ever since….That was seven years ago. I started the internship in June, so it's exactly seven years since I set foot at Pixar.
Becky Neiman: I started in 2004 as a production assistant. Prior to that I was a graphic designer and photography in the music industry. I found that what I really loved most about working was working with people and supporting artists, but not necessarily I didn't feel like I wanted to be the artist anymore. I had always admired Pixar and Finding Nemo had just come out when I started, so I was a PA. My very first project was a short film. I've since then gone on to work on features, but it's really so fun for me to be able to return to the short film program again with Bao.
HelloGiggles: Did you ever think you'd be sitting here doing interviews about your short film playing in front of Incredibles 2?
Becky: No.
Domee: No.
HelloGiggles: It's tracking to have the biggest opening for an animated movie ever right now.
Domee: Whoa. Really?
Becky: Oh my gosh, that's crazy. No, I don't think we ever [that about that reach].
Domee: I come from animation school, so I remember watching Incredibles. We put it on the projector as we would all be working on our assignments. Yeah, I've been a huge Brad Bird fan for most of my life and it's just such a crazy trip to be the short in front of the sequel to one of my favorite movies ever.
Becky: When we first started working on Bao…Well, first of all [when we started] we didn't even know, A) if we'll be able to make [the short]. B) if we'll be able to finish it. C) that it's going to even get released. So we didn't know at the start that we'd be attached to Incredibles 2. We only just found out maybe a year ago, or even less, and we were just so thrilled. Then as we learn more about the feature, we see a lot of similarities. These are two stories about strong moms. On the surface it might not look like we match, but we really feel like we have a lot of the same themes and so it feels like a perfect match to us.
Domee: There's even Chinese food in the Incredibles 2 in one random scene!
HelloGiggles: For Bao, from beginning to end, how long has the process been going on?
Domee: I guess we're up and down, but if you want to count when I first came up with the idea, it was over four years ago. Just on a whim I wanted to just start working on a project outside of work, just to challenge myself creatively, so I came up with the story for Bao. But then there was almost like an open audition at the studio. Like, "We're looking for shorts pitches. Anybody can pitch free ideas." Then I signed up. I pitched three ideas including Bao, not knowing if they would ever go for that, something so weird, but that's why they liked it. It was green lit. It was chosen and green lit as Pixar's next short in 2015, but I was still working full time as a storyboard artist on Toy Story 4, so I would still be working on Bao in my spare time on weekends. I slowly crafted the storyboards. Pretty much it was just me and my editor, Kathy Ringgold, and we were just working together for about a year until we got a producer, Becky.
Becky: Yeah, so I started in 2016 and that's when I helped. Domee had done such an amazing job getting the story really…It's nearly what you see onscreen now, so that became our blueprint. It meant I was able to put together a crew and we produced the film in about a year and a half.
HelloGiggles: I feel like that's very fast.
Becky: It's fast compared to our features for sure, although we had, like Domee was saying, we would have some starts and stops. The shorts program is sort of like the scrappy indie wing of Pixar and we have to pause production if people are needed to go onto the feature films, so we would work, work, work, and then pause because no one would be available, and then we'd get a call and say, "So-and-so's available to come work on a couple of shots," and we'd bring people on. Yeah, I think if we were able to work consecutively it would probably be more like maybe nine months. Yeah, so that's how come too we didn't know what feature we would be put in front of, because it really depended on when were going to be able to finish.
HelloGiggles: Is there a particular scene or moment that gave you the most trouble in the shorts?
Becky:   Oh, yes. All the food shots.
Domee: They were very, very different and very tricky. We had an amazing effects crew and they toiled and sweated for two months just to create that shot where she's folding the dumplings in the beginning. Food is very complicated to do on the computer. We did lots of research. We filmed my mom a couple times making her dumplings.
Becky: It was certainly the most challenging. I think we were surprised at how challenging it was, but now in retrospect we understand why. Every one of us, we're all experts in what good food looks like, and so if it looks a little bit off, you know, and so we were highly critical of making sure those shots worked and looked good because if they didn't it could take people out of the story and it was really important for us to get that right. It's also the physical manifestation of mom's love. It had to work.
HelloGiggles: I love the noodles. When the mom pulls them out of the water, that's my favorite food shot. It just looks so good.
Domee: Yeah, I wanted those quick food shots to go on longer. My favorite is the stir fry shot. I think that looks so good.
HelloGiggles: Now that you've got all the food set, for Bao 2 you'll know exactly what you're doing.
Domee: Yeah, I know. Bao 2 is just going to be just noodles being strained and eaten for 10 minutes.
HelloGiggles: I would watch that. That sounds super soothing.
Becky:  I tease Domee that I want to do the next one, I want it to be a meatball and the next one to be a matzah ball. Because we find that literally every culture has their Bao and that's what I think is so cool about this story. It's so relatable. I'm like, "Oh, we can keep doing this."
HelloGiggles: A lot of times actual merchandise comes out of the Pixar shorts. Are you prepared and ready for that, to see little Bao figures?
Becky: It's happening already actually. They're going to be sold at BoxLunch-
Domee: and we also have a Funko figurine too, just a little on model little thing of Bao, of baby Bao. I think they're really cute to have on your desk.
HelloGiggles: How crazy is it for you that seven years ago you were an intern and now you have merchandise for your shorts?
Domee: I know. It's surreal. It's pretty crazy. It's really cool. It's like holding your…I don't have children, but I guess it would be like-
Becky: It is your baby.
Domee: [It's like] holding your children, but you don't have to feed it or pay for its college.
HelloGiggles: Are there any big Pixar Easter eggs in Bao? Because I was looking.
Domee: There's Canadian Easter eggs, because it takes place in Toronto, Canada, where I'm from. The opening shot where you see the title and she opens the window, you see the CN Tower in the background a little bit. Canadian flags peppered everywhere. The two soccer boys that play with little Bao, one of them's wearing a Vince Carter kind of homage jersey, and he was a famous basketball for the Toronto Raptors. Dad's sweater at the very end is Canadian. It's got a bit Canadian flag on it. But Pixar-specific Easter eggs, we peppered in names of the crew all over the sets, so Becky. It's like Becky's Grocery Store.
Becky: And the addresses, it has my daughter's name in it. Her name is Lucy. Yeah, we've got our supervising technical director. His last name is McGibbon and that's the name of the stove range in the kitchen. Your name's in there on soy sauce or something?
Domee:  Oh yeah, I'm the soy sauce naturally.
HelloGiggles: I'd love to talk about one of my favorite topics, which is female filmmakers, because you are now the first female to direct a short for Pixar.
Domee: Yeah, that's good.
HelloGiggles: That's a huge mantel. Are you excited for just all the press around that? Little girls are going to watch and think, "She can do it. I can do it too."
Domee:  Yeah. I'm really, really excited. I'm like, "Look, look. You can do it. If I could pull it together somehow, so can you." Yeah, I feel super honored and humbled to be the first female shorts director. Hopefully I'm the first of many and I'm going to be working really, really hard to help my fellow female filmmakers and storytellers and to bring them up as well. I feel like I've had a really strong support network at the studio too and I want to give back and maybe help the next short film director as well, or next feature film director. I just want to pay it back.
Becky: We had a really strong female leadership team. In addition to us, we had our production designer Rona Liu, our editor Kathy Ringgold, our production manager and our sound designer. Yeah, we had a really strong team of women behind this, so it's really exciting for us.
HelloGiggles: Why do you think it's so important to have all these women on the crew, and just behind the camera in general?
Domee: I's super important because you just want…If you want to keep telling unique stories, you have to look at different sources for those stories. I think Pixar has embraced that and they're definitely supporting and bringing up storytellers from all sorts of diverse backgrounds. Yeah, if you're going to be drawing from the same well over and over again, you're going to be telling the same stories, so I think it's super important to have that creative diversity behind the camera too because that's just going to make the final product even cooler and more unique and more special.
HelloGiggles: What is the best piece of advice you've ever received?
Becky: I can tell you mine. As a producer, when I was first starting to do my first leadership role, my colleague said, "Make people happy and the rest is easy." I found that to be true.
Domee: Yeah, that's good advice. For me it was find your community wherever you are, and making stuff or being creative is really difficult to do in a vacuum or by yourself and it's so important to have again that support system or just colleagues and friends around you who are like-minded and want to make stuff too, because that just motivates you to want to make stuff as well. You have people to bounce ideas off of, to be real with you, to give you that tough love but also that support when you're feeling really low or feeling really not confident or unsure of yourself. I think community is so important for the creative process.