Dolly Parton talks to us about her upcoming movie, lipstick, self-care, and bedazzling her bra
Even if you're miles away from ever calling yourself a country music fan, there might be one artist that you'd express total love and admiration for in a heartbeat. And that's Dolly Parton. Dolly is a glittering beacon of light for so many people — as clearly evidenced by the rhinestones on her dresses and the eclectic crowds at her concerts. Whether you've spent a drunken night karaoking "Jolene," praising the feminist themes of her hit song "9 to 5," or quoting her countless "Dollyisms," she's the one celeb that you, your mom, and your grandparents all bond over.
Her decades-long career has resulted in over 100 million records sold and multiple Grammy Award wins, not to mention memorable roles in Steel Magnolias and Best Little Whorehouse in Texas. Oh, and she has her own THEME PARK. (Love you Beyoncé, but you don't have that yet!) The tireless Dolly is generous with her talents. Earlier this year, she released her 43rd studio album, Pure and Simple, and her new movie, Christmas of Many Colors: Circle of Love, will be airing on NBC in the coming weeks.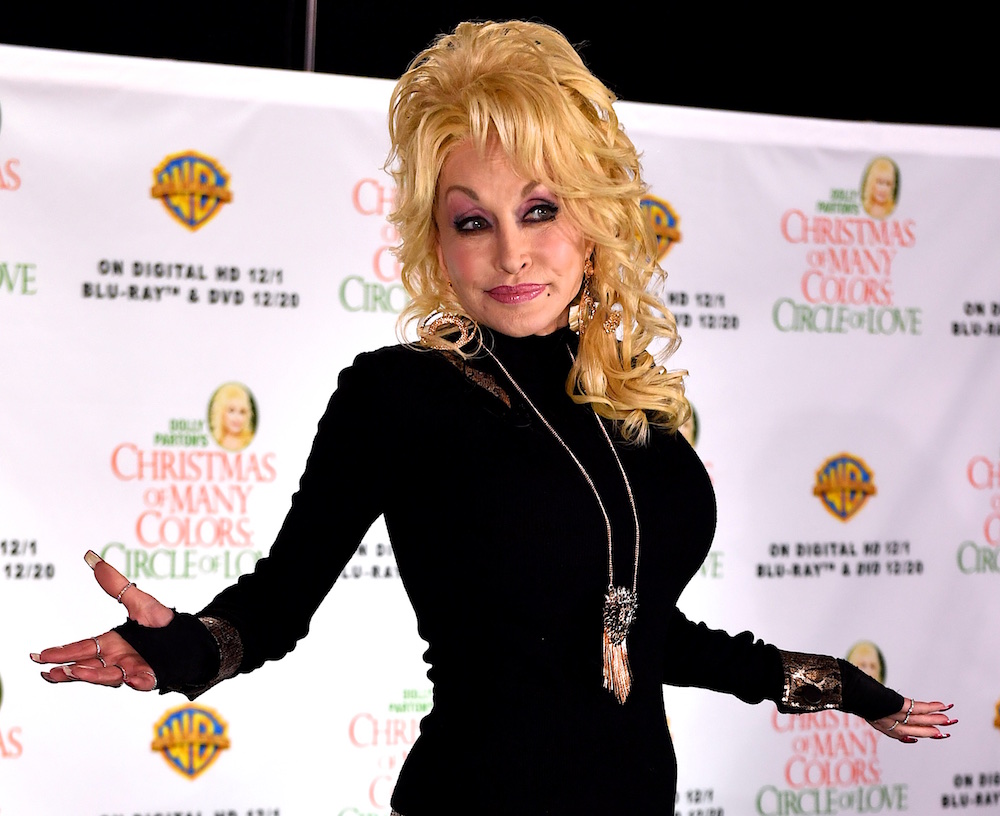 We were able to chat with Dolly about the new film, and her fantasy makeup line, as well as get advice on how to give ourselves Dolly-style self-care during this crazy election.
HelloGiggles: Can you tell us about the upcoming Christmas of Many Colors, which isthe sequel to last year's Coat of Many Colors?
Dolly Parton: This one has a couple of Christmas miracles. It's more about the season and the Christ spirit and the miracles that really happened in our lives. One of the stories is when we made money to buy mama a wedding ring — she had a houseful of kids and never had a wedding ring. So it has a lot of fun and sweetness about how we all did different jobs, and were trying to keep it secret, and all the things we went through to try to get her ring. It's really about family and the kids, and we've introduced a couple of new characters in this one. I really think it's more in-depth, and more involved, and more entertaining than the other one.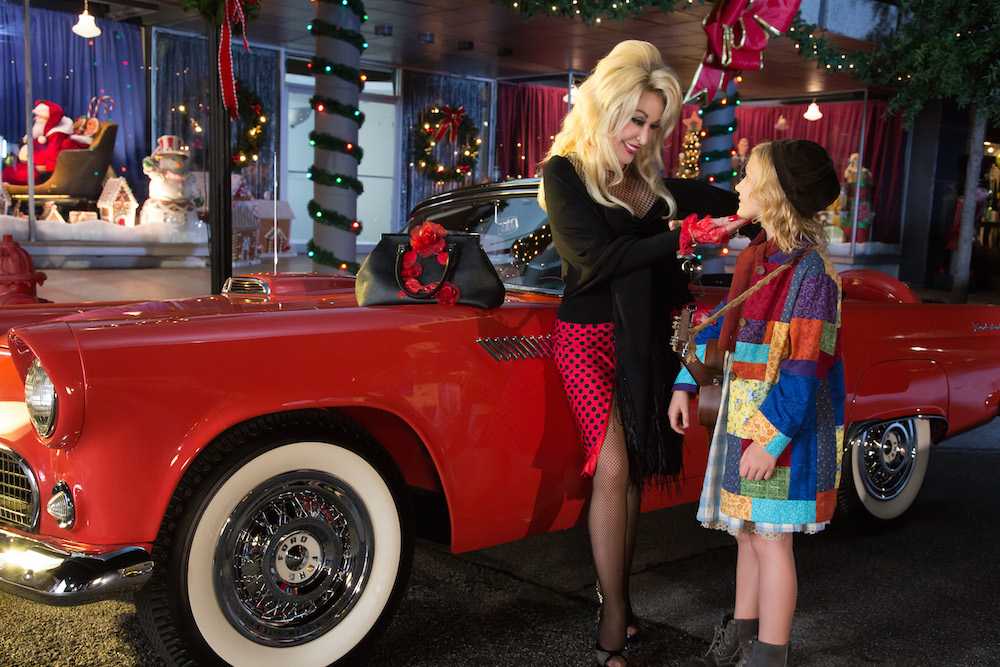 HG: And you have a special cameo in this one?
DP: Yes I do! Actually, one of the things I'm proud of is that I get to play the the town trollop, the lady that I patterned my look after when I was little. Everybody said she was just trash, but I just thought she was beautiful. She wore all these loud colors, and had piled up yellow hair, eyelashes, lipstick, bright red nails, high-heeled shoes, and tight clothes. I thought she was the prettiest thing ever. I thought, how cool it would be if I got to be her in this movie. Alyvia Alyn Lind that plays me was 9 or 10 in the movie and so she gets to see The Painted Lady for the first time. It is very touching and very sweet and very fun.
Since I'm a beauty editor I have to ask, what makeup products can't you live without?
DP: I've got to have my lipstick and my eye makeup, for sure. But I like all the makeup — I couldn't imagine being without any! But you've got to have lipstick and your eyes done.
HG: I remember reading that you would like to have your own cosmetic line someday.
DP: I would love to. I'm working on that and hopefully I'll have a wig line and hair products and all that stuff. With the makeup and the wigs, I'm really hot and heavy into doing research. We've got some things going on with that, but it's definitely something I have always wanted to do.
Do you know what you would call one of the lipsticks?
DP: Well, I'd have one called Pokeberry because I used to put berries on my lips all the time, so I'd have a Pokeberry Red. I used to always do that kind of thing back in the country — use stuff from nature. To smell good, I used to mash up honeysuckle and rub it on me for perfume. So, I'm sure when the time comes for my cosmetics line, I'll come up with a few things based on my growing up.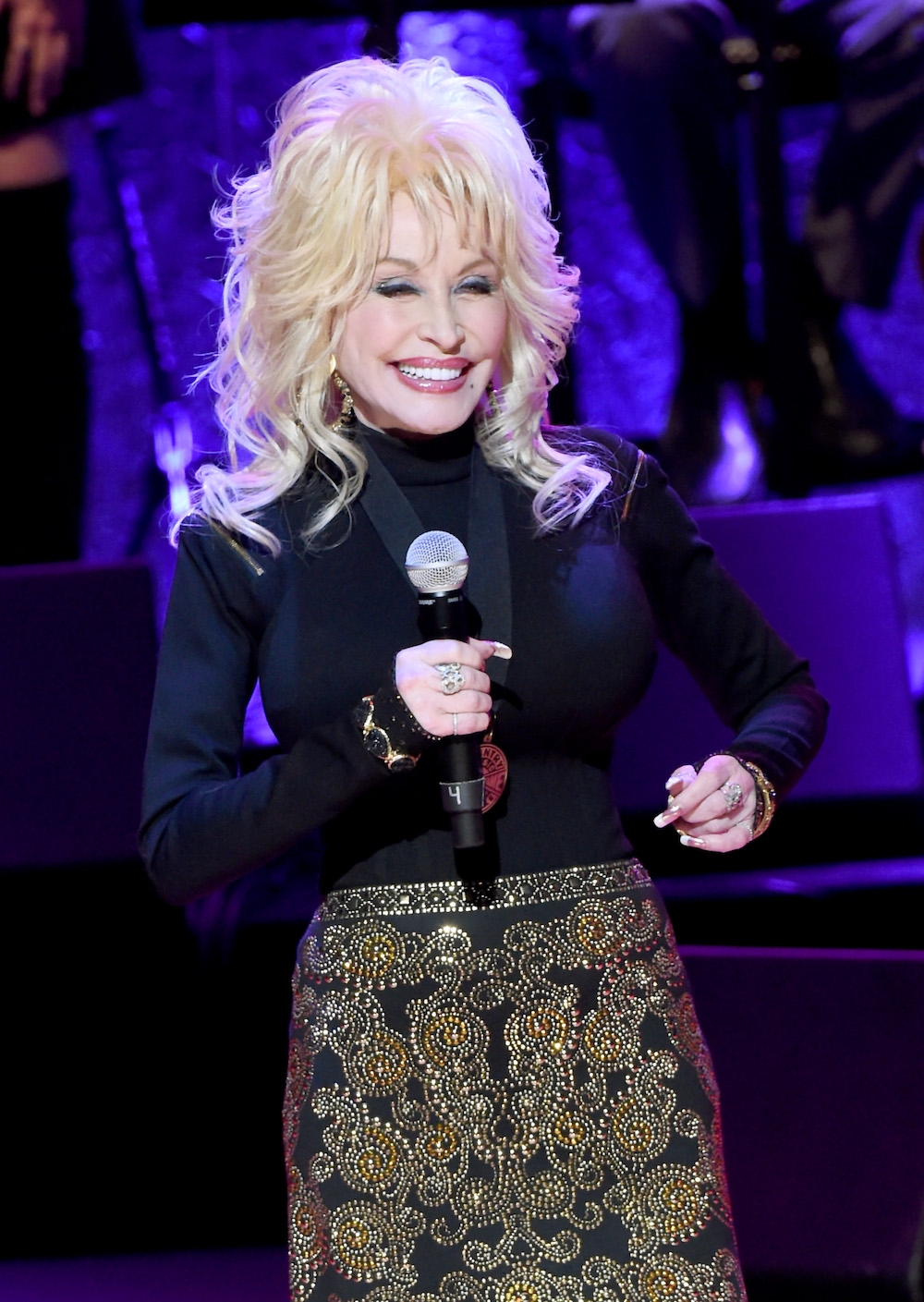 HG: I remember reading that you had used burnt matchsticks for your eyeliner.
DP: Yeah, I used to strike Mama's big ol' kitchen matches and then wet the tip of it and make eyeliner. I'd look like Cleopatra when I was seven years old. I'd be painting on myself, drawing big eyeliner and eyebrows and beauty marks and everything.
HG: With the election, so many people are anxious and stressed out. What do you do for self-care like during times of high stress like this?
DP: Well, I try not to place so much emphasis on what's going on with the craziness in the world, 'cause I try not to feed into that negativity. And like I say, I don't want to march in that negative parade. I just try to center my own self, and go back to my spiritual self, and just ask God to anchor me. I try to meditate a little bit and try to be still and think about good things, and take a good, hot bath. Just kind of lay in the tub and meditate and pray and all that. Everybody has their own little ways of getting rid of stress. I'll also get out and walk around on our farm and wander around on some little trails, get out and see nature. And remember all the things that are supposed to really matter, instead of trying to destroy each other with all the negative stuff that we can think up.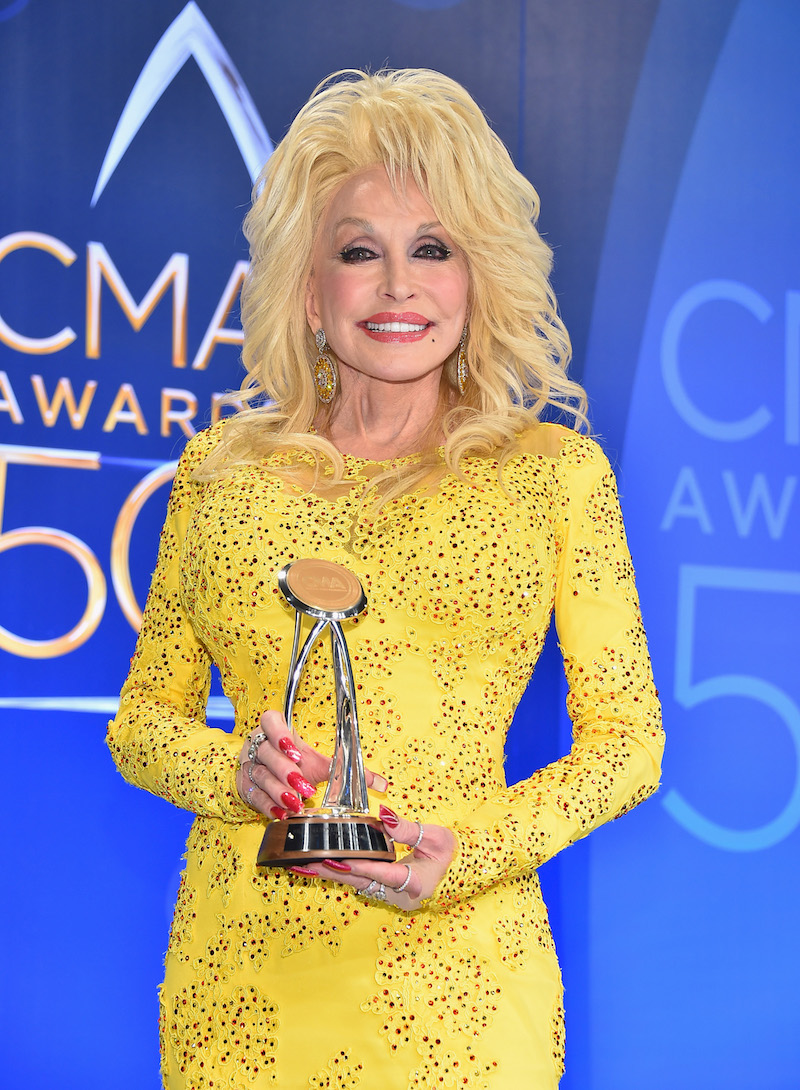 HG: I wanted to congratulate you on your CMA Lifetime Achievement Award. What do you personally think is your greatest accomplishment?
DP: Just making it this far in the business. Every award I've ever received was really wonderful, but to receive something like a Lifetime Achievement Award makes you feel proud, and makes you feel a little old, like somebody thinks you're done — which I don't think I am. But I really think it represents that you've done something great. And I used to always wonder when I was young that if I made it, how I would be remembered when I was older, if people would have liked me or if I would be respected or appreciated. Now that I am older and get these kind of things, it's very touching. It moves me to think that I have mattered to some of these wonderful, beautiful girls who did the tribute on the show. To think that I have been an inspiration, that I've said or done something that has made some difference, or given them some sort of strength and confidence. It's really humbling and I'm grateful for it.
HG: I saw you perform at the Hollywood Bowl and you had that tiny bedazzled saxophone. What's the strangest thing you've ever stuck rhinestones on?
DP: Well, I think that's probably one of the best things I've rhinestoned because that was really encrusted over. My little saxophone is tailor-made for me. It's small, but it gets the most sound out of it. It's like, "I'm little, but I'm loud!" But I do always make that joke as I did that night — I never leave a rhinestone unturned. You should see that little saxophone up close. It is totally encrusted with those stones. That was a time-consuming thing.
HG: I just did that to a bra and it took a very long time.
DP: [lets out a laugh-scream] Well, I haven't rhinestoned my bra, but I guess I could! I'd have to wear it on the outside. Oh, that's a good idea. Get me a bra and I'll rhinestone it and wear it on top of a shirt. That'd be cute — little Madonna-ish, little Ma-Dolly-ish. [laughs]
HG: I know you celebrated your 50th anniversary with Carl this year…
DP: I did? See, I've forgotten, we're that old. Oh that's right, we had a 50th anniversary. [laughs]
HG: I wanted to ask, what's the secret to a long, happy relationship?
Well, you've got to be good friends, but not so friendly that you can't be passionate and sexy. You've got to have some respect, and trust in each other, and it helps if you both got a good sense of humor, which we do. He makes me laugh so hard, and I make him laugh so hard, and sometimes we get in some of the craziest…Oh, we're just like a comedy routine. Sometimes I think, "boy I wish we could film this, this would be the best thing." We enjoy each other's company and the fact that we're not in the same business gives us space to talk and not to fight or to have a big opinion on this or that. I think you just need to stay alert, stay aware, and stay close.
Christmas of Many Colors: Circle of Love airs on NBC on November 30th, followed by its digital release on December 1st, and DVD launch on December 20th.