Dolly Parton, Belinda Carlisle, Cyndi Lauper, Gloria Estefan, & Debbie Harry Unite for a New Epic Song
They'll be voicing a song for a new feature film starring Lily Tomlin, Rita Moreno, Jane Fonda, Sally Field, and Tom Brady.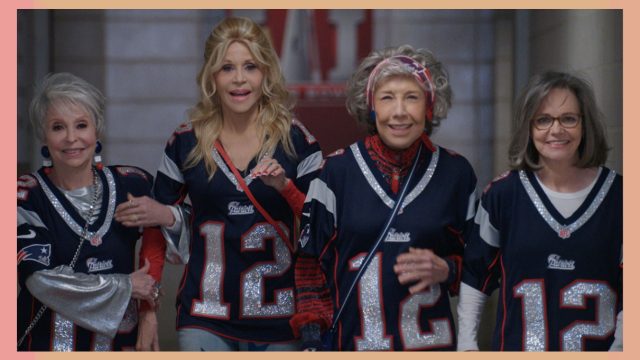 Retro singer bombshells of the '80s, unite! The world is about to be treated to what is sure to be an epic new hit from the creative voices of Dolly Parton, Belinda Carlisle, Cyndi Lauper, Gloria Estefan, and Debbie Harry.
The big talent names came with the announcement of a collaborative single called, "Gonna Be You," which was produced for a new upcoming film, 80 for Brady. Inspired by a true story, the movie centers around four best friends who take a trip to see quarterback Tom Brady play during the 2017 Super Bowl LI.
Those four besties, we might add, include screen legends Lily Tomlin, Rita Moreno, Jane Fonda and Sally Field. Oh and Tom Brady is also in it, acting as himself.
Songwriter Diane Warren captains the tune; she's been part of some of the most famous songs of our lifetime, including the Grammy award-winning hit "Because You Loved Me," sung by Celine Dion, and "I Don't Want to Miss a Thing," sung by Aerosmith from the movie Armageddon.
RELATED: 20 Best Date Night Movies to Watch With Your Partner
"When I wrote 'Gonna Be You' for '80 for Brady,' I wanted to write a song that celebrated these women's deep friendship," Warren said, in an official press release. "Since 80 was in the title I got a crazy idea, why not get some of the most iconic singers from the 80s, who are still amazing and always will be, to all sing it?!!!!"
Fonda spoke fondly about the upcoming film in a recent behind-the-scenes video for Paramount Pictures. Brady, ex-husband of Brazilian supermodel Gisele Bündchen, also had some positive messaging from his involvement.
"To work with them, it's really a once in a lifetime opportunity," Brady stated, referencing his leading ladies. "They are really the GOATS in what they do. I know people are gonna love it."
80 for Brady is set to release in theaters on Feb. 3, 2023.
Kat is a born and raised New Yorker exploring the world as she writes, eats, and everything in between.
Read more