Dolly Parton is so excited that Adele dressed up as her, and this is right as rain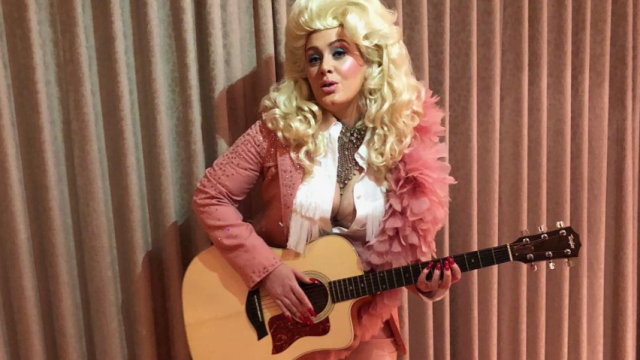 Halloween may be several months from now, but that didn't stop Grammy winner Adele from paying homage to her musical hero, Dolly Parton, by dressing up as her. Now, if there's anything we know about Adele, aside from her stellar pipes, it's that she is the queen of dressing up. So when she got all decked out in a pink embellished pantsuit and blonde wig to replicate Parton's Jolene-era style, we weren't surprised that she pulled it the H-E-double-hockey-sticks off!
"The effortless queen of song, Dolly Parton! We love you! We wish we could possess an ounce of your ability. You were the hero of our night! A hero of my life. I'll always love you X," Adele wrote on Instagram.
And guess who fangirl-ed? You know, aside from loads of fans? None other than Dolly Parton herself! The country icon took to Twitter with a video expressing her heartfelt appreciation, along with the caption, "@Adele you're so fabulous! I will always love you! ?"
"Adele… likes me?! she said. "I was knocked out. I was so honored. I was so flattered. I loved your outfit. I thought that was great. I think I had an outfit just like it back in the day. In fact, I thought that was a picture of me back in the day."
Same here! Like, is this Adele, or Dolly?
We really can't tell.
This isn't the first time Parton has made Adele feel her love. In her song "Head Over High Heels," she croons about "painting my eyes like Adele."
Now that the two have publicly expressed their love for one another, is it too much to ask for a duet? Adele and Dolly, if you're reading this, we'll be waiting.