These dolls with vitiligo are a step forward for inclusivity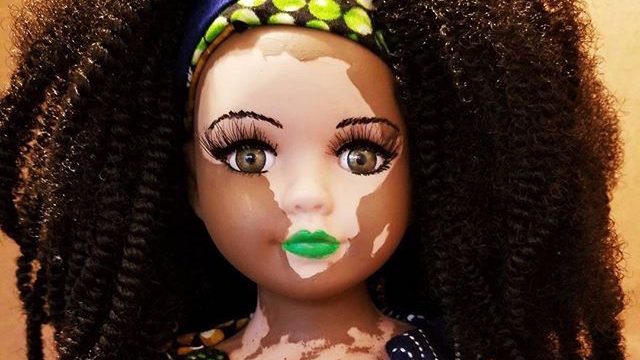 There's something incredible about kids being able to have a doll that truly represents them, and Kay Customz is giving people with vitiligo that chance with her customized vitiligo dolls. While you unfortunately won't be seeing these porcelain dolls in stores, Kay Customz is increasing diversity in toys, reminding us that inclusivity is necessary for kids — and adults — to feel represented.
As the National Institutes of Health notes, vitiligo is a skin disorder that causes white patches on the skin due to the destruction of the cells that produce color. Though doctors don't know what causes vitiligo, some think it might be an autoimmune disease.
It is a superficial disorder, with no other symptoms, but that doesn't mean people are always accepting of such differences — which is why it's so important that these dolls with vitiligo exist.
The artist behind Kay Customz is Kay Black, and she writes on her website, "I love what I do and take pride in each custom design!" Based out of Kansas City, Missouri, Black paints her vitiligo dolls to match the skin of the people who order the custom dolls.
With her dolls gaining traction in the media, celebrities are praising Kay Customz. Tia Mowry wrote on Facebook:
"This is such a beautiful idea. I love it! 👏🏾 👏🏾"
Black's artwork mostly focuses on representing black women, and along with vitiligo dolls, she has many other types of dolls that she creates, including albino dolls.
She even created a breast cancer doll for her sister, who beat the disease.
Based on all the press she's getting, Black's dolls seem to be in high demand, but you can place a custom order by messaging her directly. And she makes sure to note that these porcelain dolls are collectibles — not for playing.
https://www.instagram.com/p/BZXNlMyjoiO
So if there's someone in your life who isn't represented by mainstream toys and who would benefit from having a doll that looks exactly like them, Kay Customz is proving to be the brand to order from.