This dog wearing sunnies and shoes in the subway is literally the coolest canine ever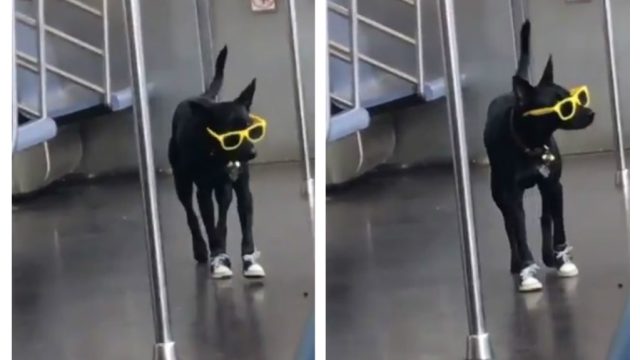 Now that winter is about to start winding down, it's time for us to focus on our fashions for the warmer seasons. Unfortunately, we're a bit ashamed to say that this dog wearing sunglasses in the subway (aka, the coolest canine ever) is way ahead of us when it comes to updating our spring wardrobes.
That brilliant hue is an obvious indication that this animal's fashion sense can best be described as undeniably optimistic and bold, much like its decision to take the subway unaccompanied.
The dog is also sporting a single pair of classic sneakers (with bare hind feet) that could easily fall into the category of year-round fashions, but we'll get to those in a second. First, check out this epic eyewear slayage: false
Love it! Simple doggie chicness at its finest. Actually, we're ready to reach out and make a shopping date with this dog but only if our schedules sync up. A dog caught casually wandering the subway in the middle of the day *might* not be the most attentive to punctuality and other human priorities, which brings us to all the questions we have for this animal.
So, where TF is the pooch's human and its final destination? Why the solo travel? Who reminded this dog to wear the sunnies indoors like a rock star? Was it this bespectacled dog from that adorable pregnancy announcement? And most importantly, were those shades purchased during an off-season sale?
SIGHS. Obviously we could go on with even more questions that need answers, but one thing's for certain: This dog is serving us major #styleinspo.