The internet is convinced this dog is singing Britney Spears' "Toxic"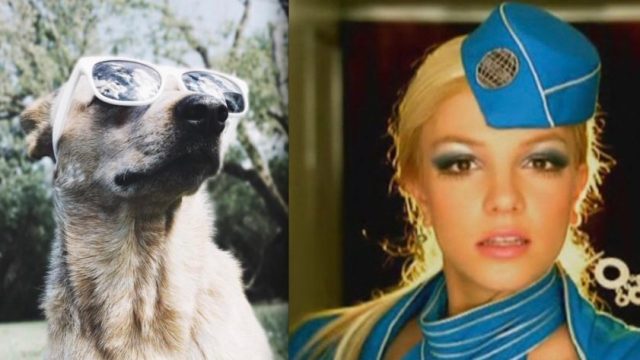 Britney Spears' "Toxic" hit the airwaves 14 whole years ago, but it still holds a special place in our hearts (and ears). And thanks to a recent viral video, it seems as though even adorable doggos are Britney stans.
On July 21st,Matt Hardin was filming his dog, Riley, howl at an approaching storm, when he noticed that there was something oddly familiar about the pup's wail. After listening a few more times, Hardin realized Riley was basically howling "Toxic's" instrumental hook.
"At first I thought he was just howling at the storm that was rolling through, but when I rewatched the video, I noticed that the sound he was making was oddly familiar," Hardin told Teen Vogue. "After watching it like 30 times, I actually said out loud, 'Oh my God, Riley, were you just singing 'Toxic?!' and then I proceeded to freak out. He looked at me sideways at first, then jumped in my lap."
The stunned owner shared his revelation on Twitter, writing, "Is it just me, or does Riley sound like he's singing Toxic by Britney Spears?"
Listen for yourselves below:
Twitter users agreed that Hardin's ears were not, in fact, playing tricks on him.
false false
false
Some remixed the original song just to be sure.
As of July 23rd, Hardin's video has exploded in popularity, with more than 411,000 likes and over 167,000 retweets. And with such a cute singer featured in the vid, who can blame them?
And if you're now itching to listen to "Toxic" in full, we got you:
https://www.youtube.com/watch?v=LOZuxwVk7TU?feature=oembed
We think Riley is one talented pooch, and we hope this doggo has more covers in the works.