This video of people forming a human chain to save a dog in a flash flood will restore your faith in humanity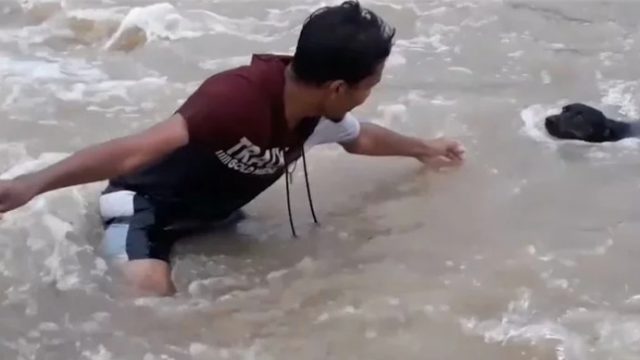 It's sometimes easy to feel like there's no end to bad news in this world. But for every story of disaster, there's one of everyday people stepping up to do the right thing. And now, a video of a dog being saved from a flash flood is reminding us that goodness is still alive and well.
Animal Planet posted the video to Facebook today, May 30th. The sweet clip was sourced from Jukin Media, which reports that it came from Sri Lanka. The island nation is currently facing terrifying flash floods. On May 24th, Al Jazeera reported that more than 400,000 people had been displaced and 13 killed as a result of the natural disaster.
The Animal Planet video captured one lone doggo struggling against the current during the flooding. When a group of humans noticed the pup fighting to keep his head above water, they decided to step in, despite the risks. Thinking fast, the group of five formed a human chain to pull the dog out of the churning water and carry him to safety. Thankfully, it seems like everyone involved in the rescue made it out okay.
The video has been watched on Animal Planet's Facebook page more than 80,000 times and counting.
Watch the selfless act for yourself (and try not to cry).
We're so relieved that the doggo was saved, and we hope that he/she — and these human heroes — are still doing well. Our hearts go out to all those affected by the flooding in Sri Lanka, and we hope the devastation ends soon.