If you can h*ckin' believe it, the creator of Dog Rates is only *21-years-old*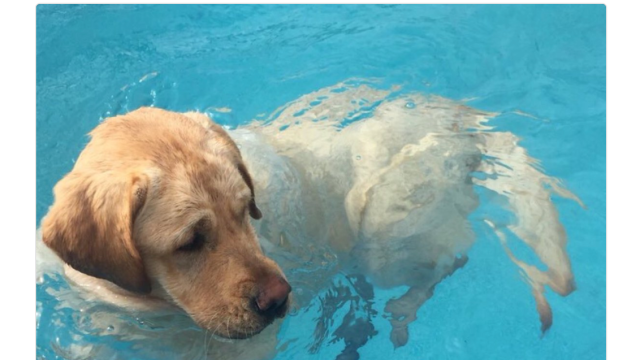 Whether you're an avid follower or have just stumbled across a tweet or two, for the better part of the last few years it has been nearly impossible to be on Twitter and not fall in love with the unwaveringly positive @rate_dogs. For the few who haven't come into contact with Dog Rates, the account rates fan-submitted photos of dogs from all over the world and it's become something of a heartwarming lifeline during these very dark Twitter days.
While the account's six million followers and additional millions of fans spend a lot of time gushing over the good boys and girls and their hilarious ratings, most probably aren't too familiar with the brains behind operation. A new Money profile of Dog Rates' founder and his overwhelmingly popular Twitter account revealed that he's only 21 years old.
That's right, Matt Nelson, who created the account at an Applebee's (seriously!) in North Carolina, is 21 years old.
The young entrepreneur told Time that the idea came to him when he saw all the creative things people were doing with Twitter. As a dog lover noticing fellow dog lovers on the internet, he saw an opening to join in and took it.
"I saw other people doing extraordinary things in 140 characters — making me laugh and making me feel things in that limited character space. I got addicted to that challenge as well," Nelson told Time. "I realized dogs were a very hot topic on the internet. If I wanted my writing to reach more people, I wanted to utilize dogs."
The then-college student operated the rapidly growing account while attending classes as a full-time student at Campbell University. Nelson revealed that he ultimately decided to leave school for Rate Dogs full-time, a decision he hasn't looked back on. Operated out of his parents house in West Virginia and with a small team helping him with the monetizing aspect of the company, Nelson is the sole dog rater, save Blake Shelton's single day takeover last year. But in addition to putting a smile on literally everyone's faces, it turns out it pays to operate a beloved dog-centric Twitter account. Time reported that Nelson made over $100,000 through Rate Dogs last year.
In addition to rating dogs with the account's famous wit, Nelson also features senior dogs and dogs in need of a little support, often link to GoFundMe pages. The self-proclaimed Dogfather joked to Time that spending so much time surrounded by all things dog, he's now become proficient in writing and acting like a dog on the internet. He said, "My initial goal was just to make people happy. Now I'm good at writing like a dog and embodying that behavior, because I've been surrounded by dog internet culture for two years."
Not going to lie, we're definitely going to have to reevaluate a few things in our lives after reading this. But the profile sheds a lot of light about one of our favorite Twitter accounts and we love knowing that it's all done for the love of the pups.