This dog with no eyes is adorable and living his best life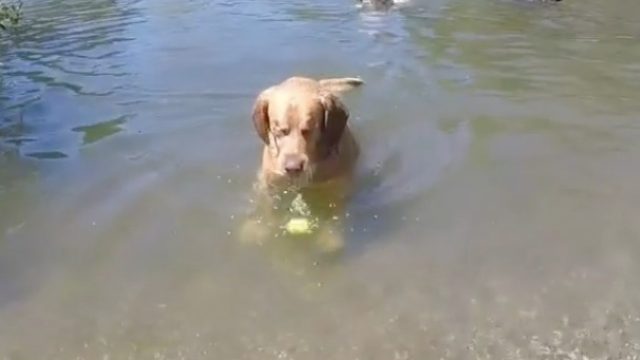 It's no secret that we love dogs of all kinds, partly because they are always happy to see us when we come home, and partly because they are the perfect cuddly life companions. It's fair to say that sometimes our unwavering enthusiasm even borders on (healthy) obsession. So! For today's dog news, we're talking about a very special dog, one by the name of Cheeto. He's a nine-year-old Labrador Retriever Mix from San Francisco, and he's cute-as-a-button.
Like all dogs, Cheeto lives a wonderful, active life of running and swimming and splashing and chasing after toys with his doggie friends, even though he's 100% blind. In fact, his eyes were completely removed due to detached retinas when he was a puppy. But as you can see, Cheeto still gets around like a boss!
If that video just made your heart melt, you're sufficiently in touch with your emotions. Cheeto looks like he's in his element playing around with the other dogs, and he's really learned how to move around despite his lack of vision. It's certainly not holding him back from getting things done and living his best life.
Yeah, no wonder this has over 88,000 likes. He's adorable (and he actually has the coloring of a Cheeto!). Look at that wet nose and those whiskers! What a guy. One of the comments says, "I feel an overwhelming need to meet this dog and give him tons of hugs." And those our our thoughts exactly.
Overload of cuteness, that's for sure.