7 hotels where your dog will get better treatment than you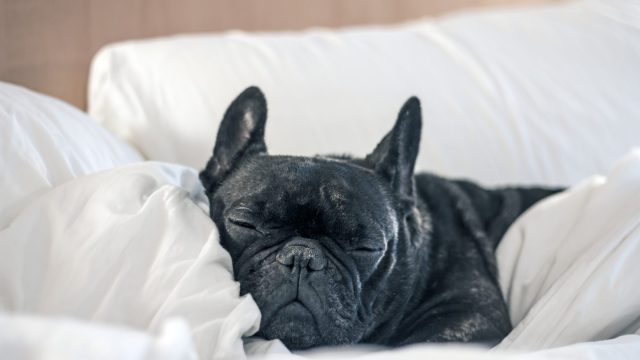 Now that summer is here, it's time for the travel plans to begin — but what about your pets? If you have a furry friend at home, you usually have to find someone who's willing to watch your pet while you're gone, especially if it's an animal like a dog that requires a lot of daily care. But all of the hassle can be avoided if you stay at a hotel where pups are not only allowed, but treated like guests themselves — and a surprising number of awesome hotels actually are pet-friendly. TBH, what could be better than staying at a dog-friendly hotel and taking a vacay with your four-legged BFF?
According to a new survey conducted by Orbitz and dog-sitter site Rover, 60% of millennials have skipped out on a trip because they couldn't find someone to watch their dog, and 40% of dog owners feel some serious separation anxiety when they leave their dog behind while they travel — in fact, they miss their dogs more than they miss their significant others.
If you feel like you fit into that category, you're probably going to be pleased to find out that there are actually tons of dog-friendly hotels around the country that are committed to giving you and your pet the most relaxing trip ever.
Here are seven dog-friendly hotels where you and your pupper are more than welcome:
1. The SoHo Grand in New York City
The SoHo Grand is so pet-friendly that it will allow your dog to stay with you for free, and it offers up treats, doggy bags, bedding, and bowls for your pet's food and water, which seriously cuts down on what your need to pack. The hotel also has its own dog park, and if you want more company in your room, the hotel will also provide a pet goldfish that can stay with you. Pretty cool (if not a little weird), right?
2. Hotel Del Coronado in San Diego
Located right on the beach, the Hotel Del Coronado is the perfect place to bring your pup, especially if they love the water. The hotel offers a gourmet dog food room service menu ("Yappy Hour") so you and your pet can enjoy treats and cocktails — and there's a beach just for dogs about a mile away. Oh, and another perk: Cats are welcome, too!
3. Virgin Hotel in Chicago
Booking a dog-friendly room at Virgin Hotel gets you a comfy bed for your BFF to sleep on, plus treats, and a cute bandana to wear. Also, your room will be guarded by porcelain dog statues, so that's a definite plus.
4. Hilton in Chicago
While you're visiting ChiTown, stay at the Hilton with your pup, and the staff there will pack a doggy bag full of treats to take on a picnic while you're exploring the city. What could be better?
5. The Kimpton Hotel Born in Denver
All pets are welcome at the Hotel Born, and there's even a director of pet relations on staff to make sure their visit goes smoothly. The hotel also offers up supplies on loan, including beds and food and water dishes, and your pet is welcome at the nightly wine reception, which sounds like the perfect way to end a day.
6. The Kimpton Hotel Monaco in Chicago
Yes, there are several good, pet-friendly hotel options in Chicago, and the Hotel Monaco is one of them. Here, your dog will receive the same pet benefits as they do at the Hotel Born, with one notable addition: They can get pet massages if you're staying in a Serenity Suite. OMG.
7. Crowne Plaza HY36 in New York City
When you stay at the Crowne Plaza HY36 in New York City, the hotel will actually lend you a coat to keep your dog warm while they're checking out the city. That's the most adorable amenity ever, and your dog will seriously appreciate it.