11 Dog and Puppy Insta & TikTok Accounts You Need to Follow
Give us all the cute pups.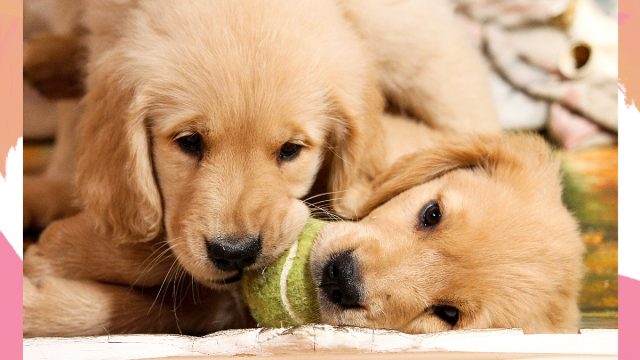 Betcha didn't know that today kicks off National Dog Week. Yup, that's right — every year since 1928, the last full week in September (this year it's the 20th to 27th) is officially a celebration of man's best friend. This holiday week was founded by Captain William Lewis Judy who was a WWI veteran, a major canine advocate and owner of Dog World Magazine for over 40 years. 
We like the way Captain Judy thinks because we're all about celebrating dogs and the super adorable things they do. From petting every good boy (and girl) we meet on the street to extra snuggle dates with our own fur babies, we'll certainly be celebrating all week long and beyond.
In honor of National Dog Week, here are 11 pup-filled Instagram and TikTok accounts you need to follow right now.
RELATED: 40 Questions to Ask Your BFF to Find Out How Well You Know Each Other
Waffles is part pug, part pekingese, part Japanese chin, and all sorts of adorable. 
You're not just getting one pup on this account — you're getting a new one with each post. The account is run by Elias Weiss Friedman, who introduces and photographs dogs he meets on the street.
This account is exactly what it sounds like. Yes, that means it's full of hot dudes hanging out with cute dogs and we're so here for it. 
This massive floof loves hanging out on his dad's back and going for motorcycle, bike and scooter rides wearing his super cool sunglasses. Plus, he's recently started visiting children in the hospital and it's so heartwarming.
This dog can freaking talk! Like for real — it's not a cute voiceover; she can actually communicate. Bunny has a large pad lined with buttons that are each labeled with different words and she can say each word out loud when she presses it with her paw. She forms full sentences and can easily tell her parents when she needs a walk, misses her grandparents or just wants to say, "I love you."
Kevin has more hats than the average person, he loves a playdate and he is obsessed with ducks. He also just became a father to eight little babies that look just like him.
Jon and his pug, Noodle, melted our hearts with their "bones or no bones" morning routine that essentially predicts what kind of day we're going to have. If Noodle holds himself up when propped on his bed, it's a "bones day" and you are meant to conquer the world that day. If he decides he isn't in the mood to stand and simply falls back to bed, it's a "no bones day" and you've got to treat yourself and take it easy. Bones or no bones, Noodle is the sweetest little prince.
This little guy is full of zoomies and tippy-tappy little steps. You'll find Jelly Bean hanging out and bugging (and sometimes loving on) his much bigger sister, Gummy Bear.
Tatum is quite the character and is full of personality. Known as Tatum Talks, he's constantly having conversations with his pawrents about what's going on around him. 
If you haven't seen Otto the Pitbull and his favorite blue stick, then you haven't been following the right accounts. This cutie loves getting pets from neighbors and it's the sweetest thing.
We all need more fluffy corgis on our FYP pages. Maxine is a super cool pup who loves wearing sunglasses and sniffing butts at the park. She's definitely a daddy's girl, so he designed a super cool backpack to keep her as cozy as possible on his back.
Amber Love Bond is a Miami-based freelance hospitality and lifestyle writer.
Read more