This dog was abandoned at a gas station, so they gave him a job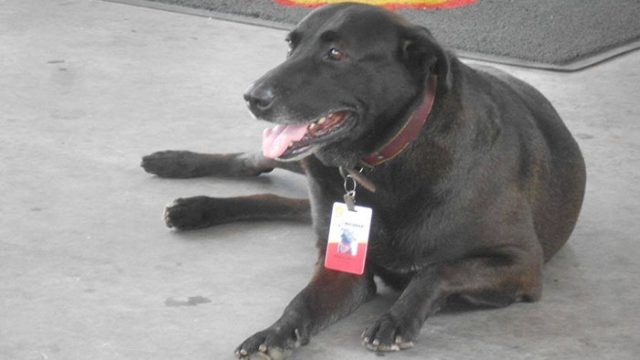 In today's cuteness news, some little pups really do get a second chance, and it's seriously giving us life. There's no better proof than the story of one little doggo abandoned at a gas station…and then offered full-time residence! If it sounds to good to be true, it's not.
Negão, the happy-looking sweetheart in the photos below, was once left to fend for himself at a gas station by whomever owned him previously.
You'd think his story would've ended then and there, but not for this VERY GOOD DOG.
Sabrina Plannerer and her partner bought the Shell gas station under construction in Mogi das Cruzes, Brazil, where they noticed a furry visitor who seemed to have lost his purpose. So they did the only thing they could think to do — claimed him and gave him a new purpose.
https://www.instagram.com/p/BPfRnAIB5gM
"We adopted him immediately and got him all the care animals need, Plannerer told The Dodo. "We bought him food, a dog house, and a leash to take him on walks.
https://www.instagram.com/p/BQgilc5BmzE
Turns out, finding a loving owner was only the beginning.
Taking him in wasn't the end of their plan for Negão. Once they noticed how amazing he was with customers, they made him part of the Shell team as a full-time "employee" along with a worker's ID.
"Negão waits for people to arrive, and then goes up to say hello, winning them over with his charms. Customers love him. Some people even bring him toys.
A little hope goes a long way
Their hope is that their story encourages others to adopt strays looking for a little love and affection. He's even become an unofficial "spokesdog" for the nonprofit, Grupo FERA, whose goal is to pair willing businesses with stray dogs in need of a home, just like Negão. With a gas station attendants as cute as him, how could you not make a pit stop?