The 'Doctor Who' spinoff is going to be Degrassi + monsters, and we're excited
If you're a crazy Doctor Who super-fan like me, you're probably pretty excited about the news of a spinoff. The companion series, titled Class, will air in the US in 2016 on BBC America. It will be an eight-part series spearheaded by Doctor Who's executive producers, Steven Moffat and Brian Minchin. If Class is a Moffat (who's also responsible for the awesomeness that is Sherlock) project, you know it will be quality television. Joining these two masterminds is YA author, Patrick Ness (A Monster Calls).
With a young adult focus, the series will be set at Coal Hill School, where Doctor Who's Clara Oswalt was a teacher. Ness previews the series by saying, "I'm astounded and thrilled to be entering the Doctor Who universe, which is as vast as time and space itself. I can't wait for people to meet the heroes of Class, to meet the all-new villains and aliens, to remember that the horrors of the darkest corners of existence are just about on par with having to pass your exams."
True, Mr. Ness. Trying to pass a math test in high school was probably as terrifying as a giant spider alien trying to take over the world. This is what Doctor Who's strength is, though — taking absurd, otherworldly scenarios and drawing a parallel to real life situations and very human feelings.
Doctor Who has spawned spinoffs in the past. Torchwood starring Capt. Jack Harkness (John Barrowman) and The Sarah Jane Adventures following the Doctor's ex-companion Sarah Jane (Elisabeth Sladen), were both successful. The Whoniverse is such a dedicated fandom, we think Class will do just fine. With the winning combination of monsters, teenage angst, and Moffat, how could it not be?
Plus we're always down to see teenagers fight monsters, #BuffyTheVampireSlayerForLife.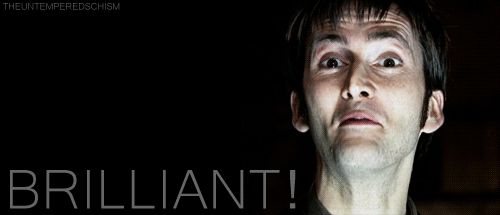 Allons-y!
(Image via BBC, GIF via campfiresandcleats.blogspot.com)