This is not a drill: Doctor Strange will definitely be in "Thor: Ragnarok"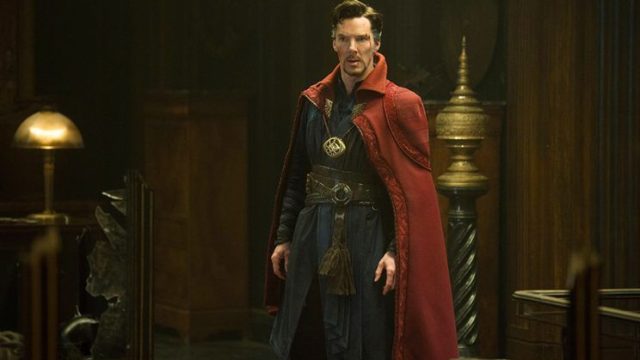 Marvel fans, rejoice! Our suspicions were right: Doctor Strange has a confirmed part in Thor: Ragnarok. Now, we've just got to wait to figure out how big his role actually is. We first suspected that Benedict Cumberbatch would be in the next Thor film a few months ago. At that time, a picture emerged of Chris Hemsworth holding a business card with Doctor Strange's address on it. Then, Thor: Ragnarok's director talked about a potential Cumberbatch cameo, but didn't spill the beans. Now, finally, we know for sure: Doctor Strange WILL be in Thor: Ragnarok.
Based on the post-credits scene in Doctor Strange, we figured our suspicions were correct. At least ~spoiler alert (though if you haven't seen Doctor Strange, do it already!)~ we knew that the out-of-this-world warrior and the budding Sorcerer Supreme crossed paths.
Now, D23, the official Disney fan club, is telling us Doctor Strange will indeed have a role in the upcoming film. In an article about exciting Disney things for 2017, it mentions Thor: Ragnarok. It reads:
"If you need even more intergalactic, world-saving action, Thor: Ragnarok in November brings together Thor, the Hulk, and Doctor Strange to face off against intergalactic baddies both familiar and new."
So, unless Doctor Strange can help fight bad guys without Benedict Cumberbatch actually being in the movie, it seems like he definitely will be present. Now, there's no official confirmation by Marvel Studios or Kevin Feige.
However, it seems pretty likely that Cumberbatch will at least have a cameo. (Though let's be honest, we're hoping for a supporting role. Or, if not, we'd love to see him in a couple scenes at least.)
We may not have any concrete answers until the movie comes out in November. It seems like a long time to wait, but at least we're getting three Marvel films next year. The excitement for Guardians of the Galaxy Vol. 2 and Spider-Man: Homecoming might just quell the questions — for now.