13 things you can do to celebrate Halloween in the Boston area (if you dare)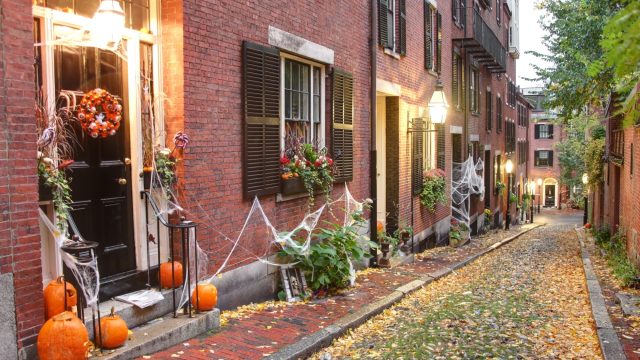 Being one of America's oldest towns, Boston is filled with ghosts, ghouls, and Green Monsters who love to celebrate Halloween. From Faneuil Hall to Somerville, Halloween is taking Boston by storm for the entire month of October, so there's something to do every weekend leading up to the spookiest night of the year. And of course, there's the city of Salem — a Halloween (and Hocus Pocus!) hub of its own, one you should move to the #1 spot on your Halloween To-Do List.
Whether you're into Boston nightlife or are looking for something family-friendly to do with the kids, we've got you covered. Start planning that award-winning costume sooner than later, and get ready to feast your eyes on fall foliage, because you're about to be busy in Beantown.
For one night in October, the Boston Children's Museum transforms itself into a grown-ups' Halloween playground. Come in costume, indulge in a cash bar, and go wild with the fun kids' games that are admittedly still pretty fun for adults. Dance the night away on the light-up dance floor and absolutely don't forget to enter the costume contest, or else!
Hop on a trolley and take a truly terrifying ride through the streets of Boston, exploring the "darker side" of the city you thought you knew. With a 17th-century gravedigger as your guide, cursed with "eternal damnation," you'll learn about the Angel of Death, the Boston Strangler, and other mysterious figures who called Boston home.
https://www.instagram.com/p/BZqwo8ij8X8
Hosted by Boston Nightlife, this Halloween cruise sounds like it will be the party of the year. The Spirit of Boston ship will be decked out in full Titanic regalia, making it almost unrecognizable. Once you check in, you'll embark on a three-hour cruise of Boston Harbor during which you can soak in the night skyline. Costumes aren't required for entrance, but come on, it's Halloween!
Everyone's favorite local Boston bookstore, Trident Booksellers & Cafe, is hosting a two-hour costume and cosplay workshop this Halloween season. You'll learn the techniques professional cosplayers use to achieve the perfect portrayal of their favorite characters from local costumer and cosplayer Rachael Linker. By the time you're through, you'll have the tools to be the best dressed at any Comic-Con or Halloween event this season.
For each Saturday in October, the Museum of Science's Charles Hayden Planetarium transforms into a retro-style drive-in theater, screening classic monster movies from the 1950s. Starting off the month with Attack of the 50-Foot Woman, and ringing in Halloween weekend with Them!, you'll feel like you've been time-warped back to the days of sock hops and greasers.
Hosted at King's Chapel, guests are led below the Chapel into the 18th-century crypt where 21 tombs are housed, undisturbed by present-day Boston. While wandering amongst these tombs, the guests will learn about the people buried in the tombs next to them and about the historic burial customs applied to tomb residents.
Head back over to Trident Booksellers & Cafe to attend the Stranger Things-inspired Strangest Things Murder Mystery Dinner Party. Set in 1983 Dawkins, Indiana, a the body of a missing high school girl is found. She was clearly murdered, and now it's up to you, the townspeople, to figure out who — or what — did it.
https://www.instagram.com/p/BL9zbfODJn8
The Annual Fall Pumpkin Float at Boston Common's Frog Pond might be one of the most magical things to see during Halloween. From 5 to 8 p.m., hundreds of illuminated Jack-o'-lanterns will take to the water and flaunt their carvings as they ominously and beautifully float around Frog Pond. Attendees are asked to bring an eight-inch or smaller sized carved pumpkin to contribute to the event and are also encouraged to vote on their favorite carving.
Kids are invited to trick-or-treat amongst the animals during Franklin Park Zoo's annual Zoo Howl. While collecting candy, kids will learn about the importance of enrichment and watch the animals receive pumpkins donated by Whole Foods Market Jamaica Plain. Then, kids can partake in "creepy crafts" and "ghoulish games," and also enter a costume contest.
Do you like trivia? Do you like laughing your butt off? Then get thee to Somerville Theater on the 14th to participate in the Old School Game Show crew's annual Halloween Hellraiser. Dress up in costume, watch from your seat, or jump up for the chance to win the horror-themed game show. It's all-around madness, and you won't regret getting involved.
Proud pet owners are invited by the Faneuil Hall Marketplace Merchants Association to put their best paw forward and participate in their annual Halloween Pet Parade. Pet parents and their beloved animals dressed in their best Halloween attire will assemble at noon at the West End of Faneuil Hall and parade around the market for all to see and prove that their pet is best dressed.
https://www.instagram.com/p/BW6WC-QhoIq
If you're in the mood for a live show, The Rockwell in Somerville has quite the Halloween treat for you. The Werewolf is described as a "fiercely queer" comedic opera that tells the story of a wild creature who terrorizes a small village and steals the hearts of young brides, and possibly a young nobleman looking for true love.
ImprovBoston's infamous annual Gorefest is back this year with Horror House, a faux reality TV show, The House Always Wins. Contestants of the show (aka the hilarious Gorefest team) compete against each other in outrageous games, try to find true love, all while trying to stay alive within the house that is hungry for their flesh!
Happy Halloween!